D - F Section

PX Bookshelf
---
Revised 5 Dec 07 - JPR
---
---
---
---
---
---
Da Nang to Memphis by Linda Moreau The devastating dread of recognizing that a loved one's whereabouts are uncertain is captured in Linda Moreau's tribute to her brother Mickey, a U.S. Army helicopter pilot declared missing in action during the Vietnam War. Da Nang to Memphis is an earnest and gripping chronology of her family's return to the crash site and search for their brother's Vietnamese wife and her children confirms for one family that miracles do come true.
Price: $15.00
Format: Hardcover, 106pp.
ISBN: 0805947949
---
---
---
---
---
Dead Men Calling
By Lawerence E. Mize

This is Lawerence Mize's second worthy collection of Vietnam War-influenced poetry, Dead Men Calling contains more than two dozen short poems that evoke the war well from his perspective as a 101st Airborne Division combat medic.
In his own words: This new work contains all the original poems in Tortured Soul. I have had friends tell me that my poems are "different." I call them "dark" because of the subject matter. You can't spend a year in hell and emerge untainted. When I write, I want to give the reader a visual picture of what is going on in the poem. I want them to understand the horror of war and see how ugly war really can be.
ISBN: 1-56167-709-4
---
---
---
---
---
Deadly Presents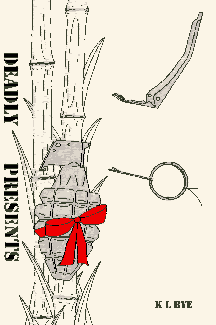 By K.L. Bye
Illustrations by Michael T. Sargent, USMC, 1973
Poems on Vietnam from a combat soldier's point of view.
---
"Bye has stared into the pit of hell. . .[you will] shiver with what she saw."
--Laura Palmer, author of "Shrapnel in the Heart."

"Very readable, easily understandable, and moving."

--Nelson DeMille, Nam vet/best selling author, "Plum Island."
---
ISBN: 0-9641945-3-8

PRICE: $10.00 (MN residents add $0.65 state tax)

AVAILABLE ONLY FROM:

Turtle Run Publishing
PO Box 267
Circle Pines, MN 55014

CONTACT:

EMAIL
FAX - 612-784-4536
---
---
---
---
---
DEAR DADDY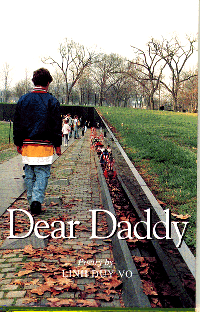 Poetry by Linh Duy Vo
---
Linh Duy Vo was a young boy growing up in Vietnam during the War. When the Viet Cong were advancing toward Saigon in 1975, Vo was a nineteen-year-old university student there. After reading that his home town in the central province had already been conquered and that there would be no way to reach his family, he made the hurried decision to leave his homeland. He was one of the first to arrive at Camp Pendleton Marine Base, Oceanside, California, on May 2, 1975, one day after the fall of Saigon. He arrived with only his shirt and pants and a few pictures.
In his heart, over the years, Vo has carried a passionate gratitude to the United States. This passion has inspired countless verses, especially one dedicated to the wartime experience with American soldiers. He titled it "Dear Daddy" to honor the American pilot who befriended him and was later killed and to all the others who came to help the Vietnamese people. Vo says, "Every Vietnam vet is my daddy. They went there to save a child like myself, and I am the child they saved."
---
"....If we cannot shed a tear of Love and Gratitude for America's 58,000 dead children, for others in the Vietnam War, then I should pack and go back to where I came from."
--Linh Duy Vo's letter to Dith Pran of the "Killing Fields," June 1997.
---
"Dear Daddy" was considered for the Pulitzer Prize.
To preview some of Vo's poetry in the VVHP's "Remembrance" section, please access:
"TO AMERICA, LOVE AND GRATITUDE."
Hit your browser's "Back" feature to return here.
---
Vietnam Veterans of America, Inc.
Long Beach Chapter #756

Proudly Presents
"Dear Daddy"
A book of poetry by Linh D. Vo
(The Boy in the Poem)
Dedicated to America and our beloved Vietnam Veterans
Your $25.00 purchase price per book will help make the
Long Beach Vietnam Memorial a reality.
(Include $3.75 for postage, handling, and insurance)
Total Cost: $28.75
PLEASE MAKE OUT CHECKS OR MONEY ORDERS TO AND MAIL TO:
Vietnam Veterans of America, Inc.
Long Beach Chapter #756
4132 Ransom Street
Long Beach, CA 90804
(Please note on your check: For "Dear Daddy," VVHP Bookshelf)
ISBN: 0-9654498-0-7
---
---
---
---
---
Dear Donna, It's Only 45 Hours from Bien Hoa
By Doug Neralich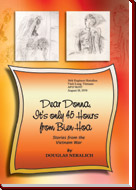 This book is available in electronic format for immediate download from 1st Books Library as well as in paper format from bookstores.
What is it about the Vietnam War that haunts America and the veterans of that conflict decades after the fighting was declared officially over? Was the experience of Vietnam veterans different from veterans of other wars? Former Army medic with the 36th Engineer Battalion (Vinh Long, 70-71) Doug Neralich poses these controversial questions and attempts to bare the answers while revealing untold Vietnam War stories.
Drawing on an impressive array of sources and actual combat and rescue experiences, Neralich weaves a collection of short stories based on high points and low moments in his personal Vietnam War experience. Neralich was only 22 years old when he was sent to Vietnam for a year-long tour of duty. Neralich was part of the perilous mission that built roads and bridges through the hostile swamps of the Mekong River Delta. It was there where Neralich and other young men serving with him faced the toughest battles of their lives.
Dear Donna,It's Only 45 Hours from Bien Hoa covers everything from tragic incidents, bloody encounters, personal conflicts, heartwarming tales, to memoirs. However, underneath the grisly details and harrowing accounts of war are awe-inspiring layers of anecdotes and personal revelations from unsung heroes like sergeants Covelli and Costal.
The book is a "must read" for anyone interested in a story of love, war, and the resiliency of the human spirit. Douglas Neralich is a decorated war veteran and respected teacher. He collects Vietnam War related books, movies and songs. The Vietnam War is not an all-consuming passion, but "Once a Vietnam Vet, always a Vietnam Vet," Neralich proudly declares.
Neralich and his wife Donna currently reside in Wyckoff, New Jersey.
EMAIL CONTACT with Doug Neralich
---
---
---
---
---
DEROS Never
Thomas LaRoe

This is a story about our American fighting men who were left behind after the war was over in Vietnam. They were left behind in three different countries; Laos, Cambodia, and Vietnam. DEROS means Date of Eligible Return from Overseas; these men had no DEROS date so theirs was NEVER.
These men were either shot down or captured on the ground in these countries that the United States Government was too embarrassed to admit that they were even there. In fact, they denied that they even existed, let alone try to go in and get them out.
It all started with a treaty signed in Geneva in 1955. There was to be no ground forces in the Countries of Laos and Cambodia. The United States broke that treaty, just like they have ignored every treaty since the United States Calvary and American Indian Wars long ago.
---
---
---
---
---
Desertion In the Time of Vietnam
By Jack Todd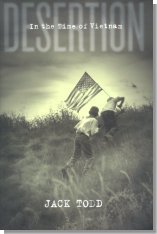 In 1969, Jack Todd was twenty-three and happy beyond his dreams. He had left behind a hardscrabble youth in a small Nebraska town, had an exciting and enviable job as a reporter on the Miami Herald, and was wildly in love with his beautiful Cuban-American girlfriend. As the war in Vietnam drew closer, he assumed that he would fight, as the men in his family had always fought, though he was increasingly troubled by America's role there. His oldest friend had just returned from Vietnam and was already showing signs of the war-caused trauma that would destroy him; he had seen and done things too terrible to describe. He begged Jack to dodge the draft, to go to Canada. Nevertheless Jack entered the army and completed basic training when, on Christmas leave, he made an agonizing decision. By now deeply opposed to the war, he crossed the border into Canada, leaving behind his family, the girl he loved -- and his beloved homeland.
Now one of Canada's most successful journalists, Jack Todd is a remarkable writer of great power and vibrancy. It has taken him thirty years to come to terms with the guilt and shame of desertion, to break the silence, to tell this controversial, important, profoundly American story. In a dark century, when many "only obeyed orders," he chose not to. This is an intensely moving personal story told with passion and literary verve, as well as an eloquent account of a tortured time in American history. It is hard to put down, and impossible to forget.
Published by Houghton Mifflin
April 2001
$25.00US
0-6180-9155-6
---
---
---
---
---
Divided We Fall: How Disunity Leads to Defeat
By James Rothrock

Divided We Fall is a testament to how the most powerful nation in the world can go down in defeat when its people are divided.
While the war was being fought in the jungles and rice paddies of Vietnam, another war was being waged on the streets and campuses of the United States. This "second front" was the antiwar movement. Captured enemy documents, U.S. and allied intelligence reports and the author's conversation with an important, former North Vietnamese officer, provide irrefutable evidence that North Vietnam relied heavily on the antiwar movement to achieve politically what it was unable to win on the battlefield.
For the first time, the antiwar movement is exposed for what it really was - a major weapon in Hanoi's arsenal for defeating the United States.
The thesis of this book was recently validated by a prominent American statesman, Dr. Henry Kissinger, former Secretary of State, National Security Advisor to presidents Nixon and Ford and US negotiator at the Paris peace talks. On a CNN program on August 25, 2005, he made this statement of historical significance,
"In Vietnam we defeated ourselves with domestic divisions."
The extensive bibliography and notes plus key source documents in the appendices make this a valuable research tool for students of history.
---
---
---
---
---
Doc: Platoon Medic
By Daniel E. Evans Jr., and Charles W. Sasser

Dan Evans arrived in Vietnam on October 7, 1968, a 21- year-old Army medic who couldn't stand the sight of blood. Thrust into the cauldron of combat, he soon became a seasoned veteran of emergency medicine and the brutal realties of war. Before his time was up, he would master the skills of a surgeon, acquire the patience of a saint, and demonstrate the courage of a lion.....
Here, in his own words, is the gripping true story of Dan Evans, the highly decorated soldier whom the men of First Platoon, Bravo Company, called the "fighting medic." Whether skimming the treetops in a MEDEVAC chopper or slogging through the mangrove swamps with an M-16 in one hand and an aid kit in the other, Evans went to work when things went bad. His mission: treat the wounded amid the mud, blood and bullets, or die trying. Experience the rage, the sorrow and the remarkable spirit of Dan Evans - the PLATOON MEDIC who became a true American hero.
ISBN: 0595250513
---
---
---
---
---
Doc Randall's Revenge
Russell E. Savage Jr.

William Ranger Randall seems to have the idyllic life. He is a scientist with a sound research career in a prestigious medical school. He has a beautiful family comprised of an intelligent, attractive and highly successful wife and two wonderful children. He seems to have put his days in Vietnam and the Marine Corps far in his past.
But there is that one haunting and perpetual memory - the woman who abandoned him for financial security just when he was about to make his way back to safety and her embrace. She realized her mistake, but couldn't quite rectify it. Instead she chose to periodically enter Will's life, seeking assurances of his love and loyalty for her and always promising a life together - soon.
In spite of all he had and all he knew about her, he couldn't say no. He was always there for her, but she was never there for him. Instead she subjected him to one brutal mistreatment after another. He learned to live with them, but could never quite believe that they wouldn't one day be together. After three decades, it seemed not to be, but when her daughter entered Will's life, events were set in motion that not one of the three could alter.
Available at major bookstores or direct on-line from Protea Publishing
---
Early Praise for Doc Randall's Revenge
"She was his high school sweetheart and then his fiance, but that was before the Marines, Vietnam and the 'Dear John' letter. Russell E. Savage, Jr. weaves a somber and disturbing novel of love and the destructive nature of obsession within an affair gone awry. Savage's talent as storyteller is genuine."
--- Dr. Richard L. Allen, Policy Analyst, Cherokee Nation and former United States Marine.
"For anybody who's had their heart ripped out, Doc Randall's Revenge delivers the perfect thirty-year journey to payback. Brilliant plot twists and turns will rivet you through the final shocking conclusion."
--- Michael W. Woolson, The Michael Woolson Studio.
"Doc Randall's Revenge grabs your attention and doesn't let go for thirty tortuous years. The climax will shock, stun and surprise. Three cheers for Savage.
It's a keeper."
--- Dr. Steven I. Baskin, Associate Editor, Taylor and Francis.
"The author was a Marine in Vietnam and his tour of duty included the horrific siege of Khe Sanh. He's put the experience to good use in this book, an absorbing and complex tale of war, love and revenge. I couldn't put it down."
--- Richard Hyer, author of Riceburner.
---
---
---
---
---
A Dozen Things I Learned About Life
As a Marine Sniper in Vietnam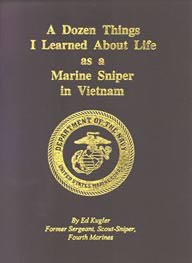 By Ed Kugler
Former Sergeant, Scout-Sniper, Fourth Marines
A wonderful book of short stories along with the Lessons they taught. A great inspiration for dealing with Life's problems and concerns.
Cost: $4.25 Total each -- ($3.00 per copy, plus $1.25 S&H)
Available from:
The Dozen Group
PO Box 11470
Spring, TX 77379
10% of all profits are donated to Homeless Veteran Projects
Contact the Author at Tkugler459@aol.com
---
---
---
---
---
Draftee: A High School Teacher Goes to War
By David Volk

What was it like for a middle class kid from South Dakota to be drafted and shipped off to Vietnam? Volk was living what he considered a normal, quiet life; newly married, he was preparing to teach high school history when he was drafted into the U.S. Army.
The passage from regular guy to highly trained soldier was anything but easy. From the insanity of basic training, mind-numbing KP duty, ham-fisted drill sergeants and endless marching to the culture shock of Vietnam, Volk brings the reader along on his travels. When he finally comes home to America eleven months later he faced a changed country: Neither America nor its soldiers would ever be the same again.
Moving, memorable and funny, DRAFTEE: A High School Teacher Goes to War is sure to spark memories from veterans and to open up the Vietnam era to a whole new generation. This book is a page out of American history, but also a window into the human heart.
---
---
---
---
---
Drastic Measures
By Jason Melby

Set in the dead of winter among the affluent suburbs and the inner city streets of our nation's capital, Drastic Measures contrasts the lives of two strangers bound by fate: Zach Taylor, a married 35-year-old Harvard financial consultant on the verge of bankruptcy; and Sammy Biddle, a 55-year-old church custodian and veteran tormented by flashbacks of the Vietnam War.
His life spiraling out of control, Zach confronts his greatest challenge when his wife, Jenny, is abducted in exchange for $25,000 he stole from a merciless drug dealer named Luther. When Zach and Sammy cross paths, Zach discovers the connection Luther and Sammy share - and in the end, Zach learns hard lessons about friends and money as a violent confrontation with an unexpected twist leaves Sammy in peril and the fate of Zach and Jenny in the hands of a dubious ally.
10% of all royalty income from the sale of Drastic Measures is being donated to the Vietnam Veterans Memorial Fund in memory of those who served.
ISBN: 1-4137-1971-6
---
---
---
---
---
The Duck Pond
By Bob Johnston

"The bad guys always fired first."
This is the story of a small naval river group, attached to NSA Da Nang, simply known as River Rats, which has no real written history in the annals of the Vietnam War. The author, a young volunteer, paints a vivid picture of life and death while serving on the rivers in the northern-most province in South Vietnam.
He ran medium-sized cargo boats on costal operations, often living for months on the rivers where he worked. From the beginning, in fall of 1965, until well after the 1968 Tet Offensive, he found himself on every river in I-Corps. Growing up fast, at the age of twenty, he was already the craft commander of a sixty-ton landing craft. He was responsible for his crew and the boat while feeling like a target in a shooting gallery—almost every day, on a shallow brown river. He would wake up each day to wonder if this would be the last day of his life.
ISBN: 1-4241-3174-X
---
---
---
---
---
Eagle Days
By Donald W. Griffis
Much has been written about America's war in Vietnam, and an enduring and troubling subtext is the composition of the body of soldiers that made up the U.S. troop deployment: from the initially well-trained and disciplined group of largely elite units that served in the mid-sixties to what has been termed an "armed mob" by the end of that decade and into the early 1970s. Drug use, insubordination, racial antagonism that often became violent, theft and black market dealing, and even "fragging" (murder of officers and senior noncoms by disgruntled troops) marred the record of the U.S. military presence.
Don Griffis served in the twin roles of legal officer charged at times with the task of both defending and prosecuting servicemen, while at the same time leading combat patrols in "search and destroy" missions against the Viet Cong and North Vietnamese enemy. Eagle Days is a remarkable account of Griffis' personal record of experiencing what the military should do best -- meet, engage and defeat the enemy -- and what it becomes when esprit do corps, discipline and a sense of purpose decay.
ISBN-10: 0817315780
---
---
---
---
---
Earning the C.I.B.: The Combat Infantry Badge
By Ed Swauger A true story about one young, Vietnam soldier and what it took to survive mentally and physically.
Ed Swauger was an airborne infantryman with B Co. 2/503 173rd Airborne Brigade
in Vietnam from March 1968 to March 1969.
---
---
---
---
---
The Education of Lieutenant Kerrey
By Gregory Vistica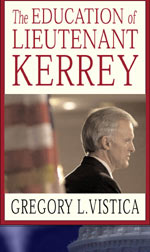 A book about former Senator Bob Kerrey's involvement in the tragic deaths of some two dozen unarmed women and children in the Vietnam war and how Kerrey -- a governor, senator and presidential candidate -- and has lived with this dark secret.
---
---
---
---
---
The Endless Tour: Vietnam, PTSD, and the Spiritual Void
by Rev. Amy L. Snow, M.A.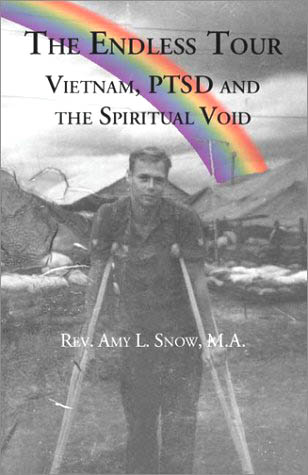 The war in Vietnam ended in 1973, but in the bodies, minds, and spirits of thousands of Vietnam combat veterans, the war relentlessly rages on. The on-going war they face daily isknown as Post Traumatic Stress Disorder, or PTSD. By definition, PTSD in combat veterans is a delayed response to the trauma of war. It is estimated that as many as 30 to 35% of Vietnam veterans have significant PTSD. According to Veterans Administration authorities, approximately 1.5 million Vietnam veterans eventually will need psychiatric help based on delayed symptoms of PTSD. The greater, yet often unrecognized tragedy of PTSD, however, is that it also affects the wives, partners, children, and other loved ones of combat veterans. It is estimated that 900,000 wives and partners of Vietnam veterans and approximately 1.1 million children may also be affected, not to mention the approximately 4.7 million members of veterans' extended families.
THE MISSION OF THIS BOOK: to share hope and healing with families, friends, and care-givers who witness daily the challenges facing a combat veteran whose wounds ofwar extend far deeper than meets the eye.
Rev. Amy L. Snow, M.A., is the sixth and last wife of Vietnam combat veteran Dwight N. Snow, who is 100% permanently and totally disabled with PTSD. Through twenty years of observing her veteran husband's rarely verbalized but intensely felt memories of war and those of his veteran friends, she has learned much about the realities of PTSD. She has grown greatly in her appreciation and understanding of its manifestations.
ISBN 1-55369-570-4
---
---
---
---
---
Eye Of The Tiger:
Memoir of a United States Marine, Third Force Recon Company, Vietnam
By John Edmund Delezen

ISBN: 0786416564
---
---
---
---
---
Expendable Warriors: Khe Sanh and the Vietnam War
By Colonel Bruce B. G. Clarke (Ret.)

Expendable Warriors describes at multiple levels the soldiers and marines who were expendable in the American political chaos of Vietnam. On January 21, 1968, nine days before the Tet offensive, tens of thousands of North Vietnamese regulars began the attacks on the Khe Sanh plateau, which led to the siege of the Khe Sanh Combat Base. Gen. Westmoreland was fully aware that the North Vietnamese would attack but he declined to alert or warn the small unit of American soldiers and marines serving at Khe Sanh in an advisory capacity, considering them expendable in the greater strategy. Not just an analysis of the battle, Expendable Warriors also ponders the question of how to win an unpopular war on foreign soil, linking battlefield events to political reality.
For those with a vivid memory of the Vietnam war, there is consolation in knowing that the impact of that war altered and shaped politics and warfare for the next generations. But in that altering we must take the lessons and apply them to new situations, new challenges and new policy dilemmas. To fail to do so would mean that the warriors at Khe Sanh and all of Vietnam were truly expendable. The battle of Khe Sanh was won and the Vietnam war was lost at the same time.
---
---
---
---
---
Facing The Wall: An Infantryman's Post-Vietnam Memoir
By Phil Ferrazano

PFC Phil Ferrazano's heartbreaking tale of courage and redemption happened not in the jungles of Vietnam, but in the States twenty years after the war ended.
In 1988, Phil Ferrazano's visit to the Vietnam Veteran's Memorial to honor his comrades of the 9th Infantry Division triggered a flood of repressed emotions and post-traumatic stress disorder with devastating results. He would spend the next ten years confronting his own anger, guilt and grief while battling the VA for the compensation and recognition he deserved.
During his journey he'd endure uncaring doctors, inscrutable rules, haphazard medical treatment, and shared the despair that drove many of his fellow vets to suicide. Phil Ferrazano's story is a testimony to the dauntless spirit and perseverance of all of America's veterans.
Phil Ferrazano served in 'Nam with the 9th Infantry Division and was involved in the Cambodian offensive of 1970. He was awarded the Purple Heart as well as the Bronze Star for valor, the latter thirty years after he returned from Tan An.
Available in Ebook and Paperback formats
---
---
---
---
---
Facing the Wall: A Mission
By Mary S. King

A wife recalls her family's struggle to return to normalcy after a loved one returns from war. Her husband came home from Nam physically unscathed - but his spirit was another matter. A story of PTSD (Post Trauma Stress Disorder) the aftereffects of war.
"Even though my story is in reference to the Vietnam War, PTSD in my opinion is the legacy of all wars. Now that out country is involved in a war on terrorism it is more important than ever that we support our warriors and their families. Our veterans answered the call to protect us. We must also answer the call, by giving them all the support that is necessary for their readjustment after their return from war - after all; they put themselves in harm's way for us."
ISBN: 1413480977
---
---
---
---
---
Fake Warriors
By Henry Mark Holzer and Erika Holzer

Identifying, Exposing and Punishing Those Who Falsify Their Military Service
We are engulfed in a national scandal. Unknown to most Americans, there is a virtual epidemic of impostors in this country – countless thousands of men who, since the Vietnam War, have been either inventing a non-existent military service, or inflating their war records. Veterans' benefits amounting to hundreds of millions of dollars are being stolen. Military decorations are being falsely claimed, and often worn, by men never authorized to receive them — the kind earned the hard way by genuine war heroes.
Unless something is done about these "Fake Warriors," their shameless, self-aggrandizing, and costly conduct will not only continue unabated; it will grow. Anyone who thinks such conduct is merely offensive and relatively harmless is misinformed.
ISBN: 1-4010-9676-X
Order by phone: 1-888-795-4274 (toll free)
---
---
---
---
---
Farewell, Darkness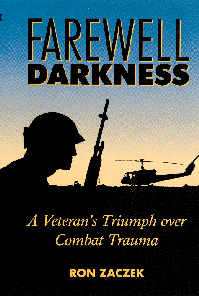 A Veteran's Triumph Over Combat Trauma
By Ron Zaczek
Crewchief, Marine Observation Squadron 3,
Phu Bai, Dong Ha, Khe Sanh
1966-1968
"I had a friend--Ron Phelps. He was the best, and he died."
I face the vets facing me, trying to reach them to know that twenty years and more past his death, the word is no longer hard. I have found the tears to soften it.
Farewell, Darkness is used to promote healing in the nation's 200+ Veterans Outreach Centers and is a probing, personal look at war's psychological toll. The reader lives Zaczek's brutal, honest journey through war as well as his successful treatment for Post-Traumatic Stress Disorder (PTSD). For many, the Vietnam story ends in unresolved pain. Intensely and eloquently written, this ground-breaking book is the first to bring closure and victory to the combat veteran's personal struggle.
"I miss him differently, now. Do you know which feeling is gone? Emptiness. Anything that touched the emptiness is gone as well. I've brought the memories forward. They define a piece of who I am, not all of what I was. When I think of him and all the men I knew, I feel full; and I feel proud of them...and me."
"Zaczek examines the depths of his psyche...in a style that is blunt, articulate, intelligent, and, at times, poetic." Marc Leepson: Chicago Tribune, Vietnam Veterans of America Veteran, and Vietnam magazine.
"This is a book about healing, understanding, and recognition, not pity. Ron's courage and persistence shine." Senator Bob Kerrey, USN SEAL Team Leader, Medal of Honor.
ISBN: 1-55750-989-1
Price: $34.95 Total each ($32.95 per copy, plus $2.00 S&H)
Order an autographed copy from:
Zaczek Enterprises
PO Box 1206
Elkton, MD 21922
Contact the author by EMAIL
---
---
---
---
---
Father, Soldier, Son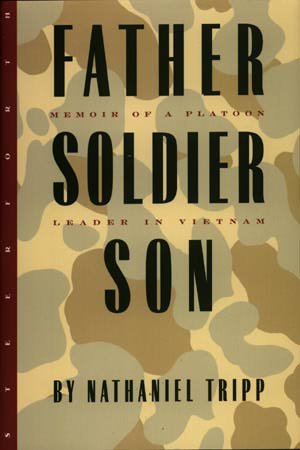 By Nathaniel Tripp
---
"Some of the best prose this side of Tim O'Brien or Tobias Wolff."

--Military History Quarterly

"Not since Michael Herr's 'Dispatches' has there been anything quite as vivid, gripping, and soul-searching."


--Washington Post

"The discriptions of combat in the jungles of Vietnam are authentic and terrifying, as good as any I have read in fact or fiction."


--Chicago Tribune

"'Father, Soldier, Son' will stand as one of the finest soldier memoirs of the Vietnam War."

--Boston Globe
---
Available in bookstores.
To order by Visa or Mastercard, please call: 1-800-639-7140
Steer Forth Press
---
---
---
---
---
Fields of Fire
By Michael Shapiro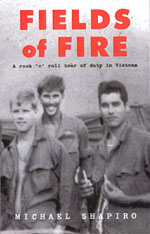 If you can find a little humor in war, this account tells of a bunch of guys beginning in the states, and then sent to Vietnam. It shares the things that have probably happened to all of us one time or another during our tours -things that you can relate to, but no one wanted to put in print. There is humor, misfortune, and a lot of personal feelings and experiences.
This fiction novel is based on Mike Shapiro's experiences of serving from October 1967 to October 1968 in the weapons platoon of Charlie Company, 1st Battalion, 18th Infantry, 1st Infantry Division.
ISBN: 09579528-6-4
---
---
---
---
---
The Fifth Infantry Division Operations
By Keith Short

The book is about all units of the 1/5 Infantry Division (Mechanized) and their operations in South Vietnam with limited emphasis on C/1-11 Infantry that the book was originally based on to demonstrate documentation research (10 pages plus 4 pages of 11th Infantry Regiment history). The book has color maps. It is also of interest to the Army's 23rd Infantry Division (Americal), the 101st Airborne Division (Airmobile), 1st Cavalry Division (Airmobile) and U.S. Marines, Navy and Air Force unit personnel as well as units of the South Vietnamese Army who served in Quang Tri Province. Half the book is transcribed military documents (mostly Combat After Action Reports from Task Forces and Division and Operational Reports--Lessons Learned) covering the entire tour of the 1/5 Infantry Division and their organic, assigned and attached units with them there.
This is a serious reference and research tool for studying military operations in Vietnam that is of interest to anyone interested in military history and especially for those 1/5 Infantry Division Army personnel who served in Quang Tri Province, South Vietnam who are interested in reconstructing the chronology and the events of their tours and where they were on combat operations through the factual evidence found in the documents. More than this, it is the legacy left for the families of those who had loved ones who made the ultimate sacrifice, and for the rest of us who served and our families and this country.
This book is copyrighted. It is 312 numbered pages, 8-1/2" x 11" with a 1" spiral binding that makes the book easier to use, durable and long lasting through heavy use beyond the "perfect" or "tape and paste" type bindings.
The book price is $50 each and is shipped through the U.S. Post Office. Consumers in Colorado add the 2.9% Colorado state tax ($1.45) for a total of $51.45. Consumers in Larimer County of Colorado add the Colorado state tax and the Larimer county tax of .8% for tax total of 3.7% or $51.85 for each book ordered.
Send check or money order (DO NOT SEND CASH) made out to:
ROSHTIEK PUBLISHING
Mail to:
Keith Short
1209 Pine
Loveland, Colorado 80537-4422
Phone: (970) 663-1414
All returned checks will incur a handling charge. Allow at least one week for delivery after the bank clears a check. It is best to check on availability for an estimated time frame on delivery by e-mail inquiry to Keith Short
---
---
---
---
---
The Firebirds

By Chuck Carlock
---
Chuck Carlock's tour as a helicopter pilot in Vietnam is recounted here with brutal frankness and graphic clarity. Even seasoned combat veterans will be astonished by the ferocity of the deadly new form of combat encountered by Carlock and his fellow pilots and crewmen - the Firebirds.
Early in his tour, Carlock concluded that he had no chance of returning from Vietnam alive - and with good reason. Of the twelve pilots in his gunship platoon, eleven were wounded and one was captured.
More than a collection of war stories, Carlock reveals his entire Vietnam experience, similar to that endured by thousands of young men and women - the humor, the frustration, the fear, and the loss of innocence. Hop into the copilot's seat and let Carlock take you back to the end of an era and put you in the middle of the action.
ISBN: 1-56530-197-8
Published by The Summit Publishing Group 1995
Autographed book is available for $15.00 plus $3.50 shipping from:
Co. A 501st Aviation Bn./ 1st AHC Association
6410 Fallbrook Drive
Garland, TX 75043-5921
Association Web Site: http://www.rattlers.bitshop.com
---
---
---
---
---
Flying Alligators and Silver Spurs
By Charles E. Oualline

This book is dedicated to the 2,201 American and allied helicopter pilots who flew in Southeast Asia between 1961 and 1975 and who died there, or died of injuries incurred there, or were missing in action. (All MIAs have been declared dead.) They represent about one in every twenty pilots who flew helicopters in the Vietnam War. An even larger number of non-pilot crew members were killed. At the date of this publication, not all of their remains have been returned to the United States. I regret that all these men have had no opportunity to grow old; or to enjoy plentiful hot water, grand sunsets, and grandchildren; or to reminisce about dangerous missions flown long ago, in faraway places. Any one of these pilots would have landed under enemy fire to rescue me, if they thought we had any chance. All of them were my comrades. Eleven of them were my friends.
ISBN: 1591966302
---
---
---
---
---
The Forgotten HERO of My Lai

By Trent Angers
---
Acadian House Publishing of Lafayette, Louisiana, has announced a Web Site dedicated to "The Forgotten HERO of My Lai - Hugh Thompson."
The Site features stories and articles on Mr. Thompson, who saved innocent Vietnamese civilians in the now-infamous My Lai Massacre in March of 1968.
Acadian House Publishing has also announced an upcoming book entitled "The Forgotten HERO of My Lai--The Hugh Thompson Story," which can be pre-ordered online.
Web Site: http://www.acadianhouse.com/hughthompson/index.htm
Brent Leger, B-C/UNITY MEDIA
1-(800)-466-9222, ext.1512
E-Mail: bleger@iname.com
---
---
---
---
---
FOR THE LOVE OF JACK
By Kathie Costos The story of a woman who fell in love with a Vietnam Veteran with PTSD. She didn't know Jack's condition could get worse; she only knew she loved him.
The book covers 18 years of their life together and the struggles they went through dealing with the illness and the government. It is about holding a family together and holding onto faith when it seemed so hopeless. It deals with the changes in Jack as the illness progressed and how he went from Kathie's best friend to a detached stranger. He turned to drugs and alcohol, she turned to God and faith.
She fought Jack to make sure he got help, fought the government to make sure they gave it to him and fought everyone she knew who told her to end the marriage. It is not just about Vietnam and the aftermath due to the illness, it is about what is really important in life.
The book is published by Xlibirs and a portion of the author's proceeds are to be donated to the New England Shelter for Homeless Vets.
ISBN: 1-4010-8691-8
Also available as an E-Book
---
---
---
---
---
Fourth Uncle in the Mountain
By Quang Van Nguyen and Marjorie Pivar

Fourth Uncle in the Mountain is the memoir of Quang Van Nguyen, son of the legendary Buddhist monk and healer, Thau Van Nguyen. Quang's father, Thau was a local hero in the Mekong Delta area of South Vietnam during the French and American wars, as well as one of South Vietnam's highest-ranking monks. Practicing an ancient lineage of Chinese medicine, he worked seven days a week traveling from village to village to help people on both sides of the conflict. At 64, Thau adopted an orphaned infant whom he trained to follow in his footsteps. But, as wise and resourceful as Thau was, he met his match in his mischievous son, Quang, who was more interested in learning sorcery and martial arts than in developing his skills according to his father's plan. Quang Van Nguyen's extraordinary journey into adulthood is a chronicle of war, folk medicine, mentorship with his father, and tutelage under martial artists, a taoist cave hermit, and more. Quang became a Buddhist abbot before fleeing Vietnam in 1986. He currently lives and practices Asian traditional medicine in Vermont, where he sees patients from as far away as Texas.
ISBN: 0312314302
---
---
---
---
---
Free Fire Zone
Airborne Press is pleased to announce that John Henry Lee's book, Free Fire Zone will appear in serial form on our website, http://www.airbornepress.com/. The first three Chapters are now on line. Mr. Lee, a two tour Vietnam Vet has written a fictionalized account of the Vietnam experience. This is the first in a trilogy according to Mr. Lee.
Free Fire Zone was originally sold to Manor Books over twenty years ago but was never published as Manor, like many publishing houses, disappeared from the radar screen in a merger. The book is free and a new part of it will appear every week or so.
The book's audience is not the Vietnam vet as he/she knows how it was. The audience are non vets or interested persons who wants to learn and know more about the Vietnam war.
Airborne Press is dedicated to promoting the welfare of the Vietnam vet and his family and this is another attempt. We think if individuals can read a novel which conveys the horrors of war and the transformation of young Americans into a "kill or be killed" mentality, all at the behest of their country, then the Nation will understand the unusual debt owed to valiant warriors. We hope you'll visit our site and see our offerings. Free Fire Zone will be available soon in PDF format for downloading from Amazon and will be a POD (print on demand) book after the serialization. Please help us get the Vietnam story out by telling your friends, family, and acquaintances. Thank you and God bless you.
Brooke Jackson
Operations Officer and Webmaster
---
---
---
---
---
Frenchy's Whore
By Vernon E. Brewer II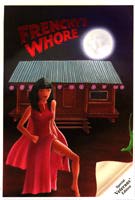 ISBN: 1-55787-121-3
Known Retail Price: $12.00, includes S&H
Book Orders:
NAM VET-BOOK
PO Box 735
Seneca Falls, NY 13148-0735
---
"The grueling march through the jungle to reach and climb Hill 522 will leave you drained as if you had climbed the hill yourself. But then, perhaps some of you did. What the men of A CO, 4/503 Infantry experienced on that day in November, 1968, is what the author has so vividly recounted in his book and with the credence that only a 'Herd' member who was there could provide...
"Vernon Brewer has provided (us) with a book that reveals how the men in the 173rd Abn. Infantry Battalions lived their lives in a war they did not understand but were willing to die trying.
"FRENCHY'S WHORE is not a misnomer--it is the best book written to date that epitomizes what the 173rd Abn. Brigade was and still is. If you have not read it, I suggest that you do."
Tim Stout,
Editor, Sky Soldier Magazine,
and Contributing Editor, Static Line Magazine
---
---
---
---
---