Women In Service
---
---
VIETNAM WOMEN'S MEMORIAL IN WASHINGTON, D.C.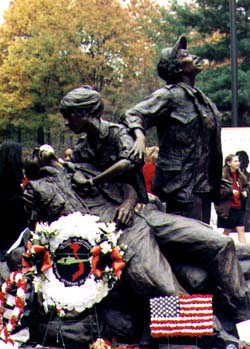 ---
Diane Carlson Evans, RN, is the founder of this Memorial project. She served in the Army Nurse Corps from 1966 to 1972 and was in Vietnam in 1968-69.
The sculptor is Glenna Goodacre, who created the Women's Memorial in bronze.
The Memorial was dedicated over the Veterans Day weekend of November 10-12, 1993.
---
VIETNAM WOMEN'S MEMORIAL PROJECT
---
The Vietnam Women's Memorial Project holds the copyright to the Vietnam Women's Memorial sculpture. Glenna Goodacre signed her rights over to the Project. Sheldon Smith is the VWMP Executive Director.
Vietnam Women's Memorial Project

2001 S Street NW, Suite 302

Washington, D.C. 20009

Phone: 1-800-822-VWMP (8967) or 202-328-7253

E-mail: vwmpdc@aol.com

Ann Kelsey
March 1999
---
Also see the "Memorials" heading in this Index.
---

Revised 07-12-2000 by DGSH

---