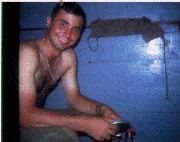 Mike "V-man" Viehman in Vietnam, Firebase LIbby, March 1970.
---
My Son V-man reflects on how the war affects his relationship with his son
Don't Want Nuthin' Back Fear of emotional shutdown
The Woods Finding peace through nature
Helmets Rituals of Death
Just When I Think I'm Better A visit to The Wall
Rat Firebase V-man fights the rats at Fire Base Libby.
"The Others". V-man's tribute to the families of our fallen comrades. Written and read at the 1st Annual VWAR gathering at Angel Fire, New Mexico.
---
Copyright 1994 By Michael "V-man" Viehman, All Rights Reserved
---

---