ART PRINTS
---
"THE ART PRINTS OF MICHAEL KELLEY'S
VIETNAM REFLECTIONS"
Web Site: http://www.vwam.com/vets/m60mike.htm

A member of the Vietnam Veterans Arts Group (VVAG), Mike served in Vietnam from 10 November, 1969, to 23 September, 1970, and was WIA 16 September, 1970, while machine-gunner with Co. D, 1st Bn, 502d Infantry, 101st ABN Div. He was medevaced to Japan, 23 September, 1970.

Among his accomplishments, Mike has three of his paintings in the TIME/LIFE "VIETNAM EXPERIENCE" series.

Mike can be reached at: kelleyc@ix.netcom.com
---
LINE OF DUTY
Artist Rod Chase is a photo-realist painter and provides this new print through www.somersethouse.com .
LINE OF DUTY depicts the Vietnam Veterans Memorial leading up to the Washington Monument.
Somerset House Publishing contains other veteran related themes
in art under the subjects of "Americana", "Patriotic", "Historical", and "Civil War & Military".
---
REFLECTIONS

Chapter 172 of the Vietnam Veterans of America (VVA) is offering this print, called "Reflections," for sale. Lee Teter created this image and gave the copyright to 172, but dealers may buy from them and sell it.
The following information will guide you to acquiring this print:
VVA, Chaper 172

17 North Liberty Street

Cumberland, MD 21502

E-mail 172: vva172@hereintown.net

Toll Free: 1-800-482-VETS (8387)

Phone: 301-777-7001

FAX: 301-777-7041

E-mail for info on Print: info@vietnamreflections.com

Web Site: http://www.vietnamreflections.com/
---
"JUST WING IT" Art Gallery Studio
- Combat art by S.M. Crowsey, Vietnam Vet -
One of the four survivors of Hill 144,
Served for the Marine Corps as a combat artist.
View this extraordinary art at:
http://www.justwingit.com/combatart/html/cartframe.htm
Sid can be reached at: scrowsey@commnections.com
---
"MILITARY MEMORIES"
See the beautiful prints in this "Photo Gallery" and more at:
http://www.wardogs.com/cbprints.html
China Beach, Danang, 1st Marine Div HQ, Aircraft, Etc.
Available for Enlargements. Contact Bob for details.
---
PERSONALIZED AND CUSTOMIZED PRINTS OF THE WALL:
Three framed prints of the Vietnam Veterans Memorial.
Please view to appreciate.
---
"FOREVER HEROES"

copyright &copy 1997 by Sight&Sound
Email contact: Tracy Santany
---
Print available from the book cover of "NO SURVIVORS":
View Bill Gunzelman's striking art:

Wall Salute
Bill is using this as a fund raiser for other veterans groups as well as donating proceeds to the "Circle of Friends CENTER FOR HOMELESS VETERANS."
Click HERE for Bill's ideas on basing your fund-raiser on Print sales.
Click HERE for COST information.
Click HERE for an ORDER FORM you can print and mail.
---
SKYPECK &copy ARTPRINTS
George L. Skypeck, decorated Vietnam Veteran, has a number of prints available honoring Units and actions of the Vietnam War. Shown below are "The United States Marines In Vietnam" and "1st Cavalry Division", each from a set of numbered prints from water color / pen and ink, and each available for $45 plus $5.50 shipping and handling.
For further information, contact:
S. M. Skypeck
PO Box 1707
Ft. Washington, MD 20749-1707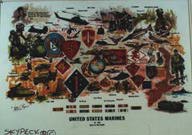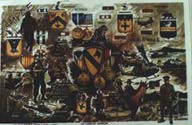 ---
SIGNED NUMBERED Prints:
CONVOY AMBUSH is an original oil on canvas on display at Kafer Kreations. Prints are available at $175 from PAR Impressions
The site also contains additional information on the background of the paintings.
---

Revised 1/20/04 - JPR

---
---