N - P Section

PX Bookshelf
---
Revised 3/13/07 - JPR
---
---
---
---
---
---
Nam Au Go Go
By John Akins

John Akins joined the Marine Corps in 1967 because he was eligible for the draft and wanted to serve two years and get on with his life. He was just 19 years old. He did not expect to be an infantry point man slogging to the combat base at Khe Sanh during the 1968 Tet Offensive. The impact of violence and death changed his life.
With very little training, he was plunged into the Heart of Darkness, as Joseph Conrad called it. He found himself "beyond good and evil, beyond fear, beyond sex and death, in the dark interior of the human mind and soul. Detached, addicted to danger and violence." He learned to survive. Many were killed all around him, and he became a killer.
Going home was almost impossible. At times he wished he would stay on forever. "I'd fallen in love with the Vietnamese Goddess of War," he says in Nam Au Go Go. He got home without serious wounds, except for his mind. He worked at ordinary jobs but without satisfaction. Eventually, he made several trips back to Vietnam to visit the places where he had fought. "I was looking for my soul," he explains.
---
---
---
---
---
Nam Sense
By Arthur Wiknik, Jr.

A memoir by Arthur Wiknik, Jr.
Arthur served in Vietnam with Co. A 2/506th of the 101st Airborne Division as an infantry squad leader from April 1969 to March 1970. He was one of the first in his unit to safely reach the top of Hamburger Hill during the final assault. A few months later, he prevented a possible attack on a remote firebase by discovering a nearby enemy weapons cache.
Proud of his military service, Wiknik gives talks at schools, colleges and civic organizations about his Vietnam experiences. A dedicated community volunteer, Arthur has been a member of his town's Memorial Day Parade Committee for 14 years and is a founding member of his local Veteran's Museum.
---
---
---
---
---
Nam-A-Rama By Phillip E. Jennings Join Marine lieutenant Jack Armstrong and his unpredictable buddy Gearhardt as the Vietnam War is cooked up at a White House pizza party, Jack has to break off his romance with Mickey Mouse when they ship out for Nam, and the boys are promoted to "Almost Captains" by their Commander in Chief and sent on a mission to stop a war that has quickly gotten out of hand. Their trip to Hanoi is anything but a direct one, taking them through fearsome combat in South Vietnam and a series of wild misadventures that propels their story forward in a boisterous satiric rush. The cast of wonderfully imagined, strange characters they meet -- President Larry Bob Jones, anti-war movie star Barbonella, Juanton the Cuban, and Hoche and the Jeepster, leaders of the North Vietnamese -- has a fractured comic energy that almost glows in the dark. Not since Catch-22 has there been such a hilarious anti-epic that captures so brilliantly the absurdity of modern war.

ISBN: 0765311208
---
---
---
---
---
Names I Can't Remember: An Assassin Confesses
By Douglas R. Bergman

Douglas R. Bergman's award winning literary and prose poetry memoir
of his service as a combat platoon leader will be released in the summer of 2005.
Brief Excerpt:
"In 1968, kids bartered dreams for beds and burgers and were never seen again. I miss those children, those cocky rebels in The Radical Ice-Cream Blue Rag Café and (ssshhh) Demolition Society. I wish I could have gone back to tell them how old bullets make you. I couldn't. I still had to learn if we hadn't gambled our lives to beat the boredom with a joint of lonely we could have tasted each morsel of life with the slow, delicious passion of endless foreplay, for memories are feasts to the starving and maybe we could have finished being young."
An utterly unique and rare Collector's Edition 1st printing is coming out this spring.
Collectors should get one of the last spaces on the reservation list now.
Order Here
ANY member of A Co 2/327 101 Abn RVN 69-70 can email
and get a free copy now of the unbound printers galleys.
Douglas R. Bergman will return to Phuoc Loc (near Hue 'the orphanage') in June 2005 to try and learn
the real name of the boy he killed known as Lin Yan.
While in country, he will bury a copy of his book in the village
and work with village elders to make some improvements.
ISBN 0-9759177-0-6
Expected publishing: summer, 2005
--------------------
"You've seen them, the Vietnam Vets who gather at the Vietnam Wall. They pause at the top of the incline for a moment, as if gathering the courage to walk down to the wall... to travel back to that time and place that is forever locked in a chamber of the soul.

They stand in front of the wall, looking at the names. The veteran who reaches up to put his hand on the name of a man who died in his arms in a stinking rice paddy, half a world away and half a life ago, may look to some like a graying, bulging, innocuous, next-door neighbor. But the reflection the veteran is seeing, is that of a helmeted, flak vest wearing, M-16 rifle carrying, young man whose "thousand-yard-stare" eyes have seen far too much death.

Doug Bergman is one of those men, and his book is a gripping, gut-wrenching story that forces the reader to confront the scars that war left. If you are a veteran, be prepared to be jerked back to a time and place that, if you are honest with yourself, is the watershed of your life. If you are not a veteran, if perchance you can't even remember America's most divisive era since the Civil War, then reading this will give you a post-graduate understanding of the turmoil that gnaws, to this day, at the soul of all of us who served.

"God would let me forget the names but force me to grow old with memories," Doug Bergman writes. And in this magnificent book, he forces you to share those memories with him." -- Robert Vaughan - Author, Brandywine's War
---
---
---
---
---
Never Without Heroes
Marine Third Reconnaissance Battalion,
Vietnam, 1965-1970 By Lawrence C. Vetter, Jr. Four Medals of Honor, Thirteen Navy Crosses, Seventy-two Silver Stars... "It's all here: grueling, tense, and deadly recon patrols; insertions directly into NVA base camps; last-stand defenses in the wreckage of downed helicopters; pursuit by superior North Vietnamese forces; agonizing death and heroism of men who valiantly put their lives on the line. "'Never Without Heroes' is the first book to recount the story of a Marine reconnaissance battalion in Vietnam from the day of its arrival to its withdrawal. In Vietnam, Larry Vetter served as a platoon and patrol leader in Third Recon Battalion. He supplements his own recollections with Marine Corps records, exhaustive interviews with veterans, and correspondence to capture the bravery and self-sacrifice of war." ISBN 0-8041-0807-2

---

---

---

---

---

Next of Kin: A Brother's Journey to Wartime Vietnam by Thomas L. Reilly Tom Reilly idolized his older brother, Ron. After their parents' unexpected early deaths, Ron protected his younger brother and taught him the ways of the world. Ron was a charismatic and worldly career soldier, and his kid brother thought of him as a mentor and hero. In July 1970, Ron died halfway around the world in Vietnam. When the Army provided no explanation except that Ron's death was not due to combat, the nineteen-year-old author set off on an incredible journey to war-torn South Vietnam to find answers, to seek revenge if necessary, and to come to terms with his loss.

Next of Kin begins in small-town Wisconsin, where Tom's peaceful childhood is shattered by the deaths of his parents. Later, Tom makes it on his own as a runaway, has unforgettable adventures with his brother in a seedy Mexican border town, and is nearly paralyzed with grief when he learns of Ron's death. On his singular journey to Southeast Asia, Tom evades the police in Bangkok, is smuggled across the enemy-controlled Ho Chi Minh Trail into South Vietnam, fends for himself in Saigon, and survives a mortar attack and a bout with malaria all to find out the truth about his brother's death. Next of Kin is a touching story of sibling love and family tragedy that will appeal even to those without any connection to the Vietnam War.

ISBN: 1574885952
---
---
---
---
---
No Survivors

By Mike Sutton
Mike Sutton served three tours in Vietnam as an infantry advisor. Mike began writing "No Survivors" 14 years ago to deal with the War's memories and create a lasting tribute to our fallen Warriors of Nam.
Click Here to see the great image that is used as the book jacket. The image was created by Bill Gunzelman
ISBN: 0-8338-0226-7
Known Retail Price: $
---
---
---
---
---
NONE SO BLIND
A Personal Account of the
Intelligence Failure in Vietnam
By George W. Allen

From the first large-scale Viet Minh offensive against the French in 1950, to the fall of Saigon in 1975, the United States tried desperately to understand the nature of the fierce Communist-led struggle to create a unified, independent Vietnam. American intelligence played a key role in gathering information on the political and military situation in Vietnam and on the strengths and weaknesses of both sides. But as George Allen shows in this eye-popping memoir, intelligence appraisals were consistently ignored or rejected by policymakers in every administration from Eisenhower through Nixon-because these assessments undermined the mistaken assumptions of the White House, the State Department, and the Pentagon. From his vantage point as a chief official with the CIA and army intelligence, Mr. Allen reveals specifically how American leaders, unwilling to face up to "bad news" from intelligence sources, largely excluded intelligence from important policy deliberations until it was too late. None So Blind is a remarkable contribution to the history of the Vietnam War.
George W. Allen was from 1949 to 1979 an intelligence analyst for the army, the Defense Intelligence Agency, and the CIA. He specialized in the Vietnam wars, served almost three years in Vietnam itself, and later held senior staff and management positions related to the production of strategic intelligence. He lives in Williamsburg, Virginia.
Price and binding: $27.50 Cloth
ISBN: 1-56663-387-7
---
---
---
---
---
Not Enough Tears
By Dave Wright

We were all touched by the Vietnam War in some way. Veterans, their families, friends and a whole new generation still have unanswered questions about that turbulent time. "Not Enough Tears" lets you see the good and bad through the eyes of a young army draftee sent to fight for his nation. Duty and patriotic pride quickly degenerated into a fight for survival.
Taking one of the most dangerous jobs in an infantry company, Dave came home with hardly a scratch. There were no odds to explain the supernatural protection he received. After two months, that covering extended to everyone around him when he walked point. Over time, that unbelievable "luck" turned into a curse as walking point and going home became vexing choices between life and death. Like most vets, Dave thought he buried the war after coming home.
Surviving the horrors of Vietnam meant he could handle anything. Thirty years later his life was falling apart. He'd given up. Leaving his family seemed to be the only way to stop the pain. Learn the lessons in "Not Enough Tears" which can bring healing to tens of thousands who are still hurting and don't understand why.
ISBN: 1418436828
---

---

---

---

---
Notes to the Man Who Shot Me
By John Musgrave
Delta Co
lst Bn, 9th Marine Reg
3rd Marine Div

With its gritty eloquence and grunt's eye point of view, John Musgrave's poetry pops a steel pot onto the head of the reader, shoves an M-16 into his hands, and sets him walking point down a jungle trail into the heart of hell.
In the ruthless grandeur of Musgrave's imagery, these teenaged Marines struggle to survive their thirteen months in Vietnam, sustained by a savage humor and an abiding respect for the soldiers of Uncle Ho. Living and dying by a code inconsistent with "civilized conduct, but redeemed by a grungy nobility of spirit and sacrifice, these boys-to-men attain a searing maturity through history's harshest rite-of-passage. This is poetry that slashes and bleeds. This is poetry that makes the truth hurt. - (Mike Clodfelter)
ISBN - 1062-5011
$10 (plus $2 shipping and handling)
PO Box 844
Baldwin City, KX 66006
---
---
---
---
---
Of Rice and Men: A Novel of Vietnam
By Richard Galli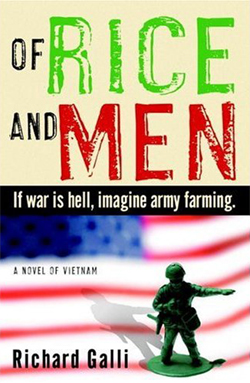 Spreading democracy takes more than cutting-edge military hardware. Winning the hearts and minds of a troubled nation is a special mission we give to bewildered young soldiers who can't speak the native language, don't know the customs, can't tell friends from enemies, and–in this wonderfully outrageous Iraq-era novel about Vietnam–wonder why they have to risk their lives spraying peanut plants, inoculating pigs, and hauling miracle rice seed for Ho Chi Minh.
Brash, eye-opening, and surprisingly comic, Of Rice and Men displays the same irreverent spirit as the black-comedy classics Catch-22 and MASH–as it chronicles the American Army's little known "Civil Affairs" soldiers who courageously roam hostile war zones, not to kill or to destroy, but to build, to feed, and to heal. Unprepared, uncertain, and naive, they find it impossible to make the skeptical population fall in love with them.
---
---
---
---
---
Of Their Own Accord
by Gary E. Dolan

A Young Lieutenant's One Year Journey in Vietnam with An Elite Ranger Unit
The Vietnam War divided our nation on a scale not witnessed since the Civil War. Its long duration and tragically high number of dead and wounded broke the will of the American people and turned them against the war itself, and in many ways, the men and women who fought there. As a result, these disenfranchised veterans were never accorded the recognition and appreciation their sacrifice deserved. An entire generation of American veterans have been dishonored and mistreated because of a collective national policy that failed from its inception. Yet, no generation before them can claim to have fought with more dignity or more valor than these maligned soldiers, sailors, marines and airmen. Their sense of duty, equal to that of their fathers and grandfathers, can never be challenged.
Gary Dolan was a platoon leader with Company C (Airborne), 75th Infantry (Ranger). Of Their Own Accord is his masterful novel of a year in the life of an Airborne Ranger platoon leader during the height of the war. During his year in the deadly Central Highlands of South Vietnam, this young West Point graduate defied conventional doctrine and made the decision to lead by example and not by privilege of rank. He personally led numerous 6-man long range patrols deep into enemy territory, not for personal glory, but because he could not…would not…send his men into mortal combat without sharing the peril with them. His story is both revealing and hard-hitting, and runs the full gamut of emotions from abject fear to unqualified heroism, from tender love and devotion to unbridled loyalty to a very special brotherhood of warriors. Dolan reveals the truism that only a combat veteran understands-that it is not patriotism that inspires young men to such bravery, but their love and devotion to their comrades.
ISBN: 1594110263
---
---
---
---
---
Of Uncommon Birth:
Dakota Sons in Vietnam
By Mark St. Pierre

A work of creative nonfiction inspired by the true story of two South Dakota teenagers, Mark St. Pierre's Of Uncommon Birth draws upon extensive interviews and exhaustive research in military archives to present a harrowing story of two young men-one white, one Indian-caught in the vortex of the Vietnam War.
Of Uncommon Birth intimately weaves together the lives of these two young men from very different worlds. Each in his own way struggles with issues of loyalty, responsibility, sacrifice, and personal identity through his experiences in Vietnam.
Of Uncommon Birth presents the ironic story of what it means for an American Indian soldier in Vietnam to let himself become stereotyped as the Native "good luck charm" for his unit as a way to find acceptance, approval, and identity within the majority culture, even if the Brave and Loyal Indian Scout stereotype carries with it the smell of death.
ISBN: 0-8061-3517-4
---
---
---
---
---
On Snipers, Laughter and Death: Vietnam Poems

By John Musgrave
Delta Co
lst Bn, 9th Marine Reg
3rd Marine Div
A must read! To preview some of John's work, access his Gallery right on this site in the "Remembrance" main section: "The Poems of John Musgrave."
COST: $7.00 TOTAL, each book --
($6.00 per copy, plus $1.00 for postage and handling)
MAIL ORDERS TO:
Coal City Review
English Department
University of Kansas
Lawrence, KS 66045
ISSN: 1062-5011
Copyright: April 1994
(Fourth Printing)
---
---
---
---
---
One Day At A Time
By Edward A. Marcin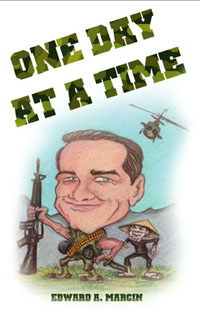 There is no beginning, there is no middle, there is no end! There is a large part of who I was, or who I would like to be, missing or still hiding out inside me and, I believe, in another country and another world.
This book is an expression of my feelings and perceptions as a young man prior to my entry into the military and during my time in Vietnam. Memories of what it was like to train for and then go to war as an everyday soldier. The things that happened then contributed to my being the person I am today.
ISBN 1-4120-0889-1
EMAIL the author
Trafford Publishing web site
---
---
---
---
---
00:19:57
One Boy's Path To Special Forces Qualification
By David Frank Stafford

This book is a 303-page memoir chronicling the first twenty-four years of an A-Team medic's developments.
Painfully honest, One Boy's Path To Special Forces Qualification (or 00:19:57) shares one man's journey
from his own youth's adversities all the way to the pinnacle of military prestige.

Merlin Publishing Company
P.O. Box 434 Chelmsford, Ma 01824
---
---
---
---
---
One-Zulu
By Curtis Randolph Kimes

"One-Zulu" is a true story, supported by several first-hand 'participant' accounts, and more than 200 document pages from the National Archives. "One-Zulu" tells the [six-day] life of a 1st Air Cavalry Division Long-Range Reconnaissance Patrol (LRRP) Team of the same name/designation, and of the various Units drawn together in an effort to help the team survive. "One-Zulu" is the story of a LRRP mission on a high ridge south of, and within sight of, Camp Evans [I-Corps], forward base of the 1st AirCavDiv, in May, 1968.
ISBN: 0-9747684-1-3-5
---
---
---
---
---
The Originals
By Don Truitt

Written with generous helpings of gritty humor and irony, THE ORIGINALS introduces readers to a company of brilliantly rebellious reluctant warriors who are shipped to Vietnam as a unit. While they are there, they wage war on the Army Way and the NCOs and Officers who were making their lives miserable. THE ORIGINALS is guaranteed to invade your heart with laughter, with a sprinkling of bittersweet tears thrown in for good measure.
ISBN: 1-59129-079-1
Price: $19.95
Additional information HERE
---
---
---
---
---
The Other Side of Heaven

An Anthology of Post-War Fiction
by Vietnamese and American Writers.
ISBN: 1-880684-31-4
Known Retail Price: $17.95
---
---
---
---
---
The Other Casualty Of War
by Paul Bylin

As a young teenager, Paul thought school was a waste of time. He quit school to find out what the world had in store for him. After many odd jobs he decided to take control of his destiny and join the Army. He takes you through the emotions of boot camp, the orders to go to Vietnam, and the loneliness of being thousands of miles away from his friends and family. He also recalls the fear, the noise, and the death that surrounded him during his two tours. When his tour was over he thought that he would resume a normal life. Now, thirty-plus years later, he realizes that the war never ended for him. He continues to fight and dream every day and night. He hopes to reach out to those that served and remind them, those who have never seen war, that freedom is not free.
ISBN - 1413754066
---
---
---
---
---
Pappy' Raiders
By Jimmie W. Brown

Pappy's Raiders is about a squad of soldiers that came from different parts of American military bases and met in the Panama jungles for training. The squad was Ranger-trained for a Special Forces Reconnaissance Squad. After the special training, the squad was sent directly to the Republic of Vietnam. There, sixteen men embarked on an adventure that changed their lives forever. The squad was led by an older soldier, a sergeant, who became known as Pappy. After a few firefights, the squad was given the code name, "Pappy's Raiders." This specially trained squad would be sent out into certain parts of the jungle on dangerous recon patrols. The squad became a family. They lived together, fought together, and yes, they cried together. The Raiders were always air assaulted into the jungles from different fire support bases. Bases like that of Ben Cat, MaryAnn, Khe Sanh and Rawhide. If you saw one raider, you would see all the raiders. A little old lady sitting on a bench on the grounds of the courthouse square in Tyler, Texas, was my inspiration in writing this book. She said, "Tell it like it happened."
ISBN: 1413770983
---
---
---
---
---
A Patch of Ground: Khe Sanh Remembered
By Michael Archer

A poignant, often humorous, recollection of the siege of Khe Sanh - a pivotal turning point in the American war in Vietnam. Under constant bombardment from the enemy, Michael Archer and his cadre of young Marines - Orr, Pig, Old Woman and Savage, just to name a few - managed to survive and, in the process, learn about manhood, sacrifice and the darkest recesses of fear and loneliness.
ISBN: 1-55571-643-1
---
---
---
---
---
Patriots: The Vietnam War Remembered from All Sides
By Christian G. Appy

Christian Appy's Patriots is an oral history that serves as a "final public record" from many who have struggled publicly with the war for 20 or 30 years. The book is also a monumental effort to capture voices long unheard and ensure that the words are not lost to a new generation.
He includes statements from significant political and military figures from both sides of the conflict, including William Westmoreland, Alexander Haig, Nikita Kruschev's son Sergei, and Vice President Nguyen Thi Bihn. But he tempers these with the voices of a World Airways stewardess who accompanied troops out of the war zone, of the widow of the immolated Norman Morrison, and of numerous Vietnamese and American non-combatants whose lives were torn by the conflagration. These tales, and the contributions from poets, writers, and activists transform the book into a epic dialogue.
Patriots is a book that will reawaken memories--horrific and jubilant--for those who lived through the troubled 1960s and 1970s; and for those just coming to understand the war, it will make vivid the trials of a different time and place. This is a lasting, powerful book that's essential reading for students of the Vietnam conflict. --(from a book review by Patrick O'Kelley)
# ISBN: 067003214X
---
---
---
---
---
Peace Among Ourselves:
Facing the Vietnam Veterans Memorial
By Jane Elizabeth Hughes
This book is a collection of letters, poems, diaries, and interviews of veterans who were willing to share their heartfelt and wrenching experiences at The Wall in D.C.
ISBN: 0-964812-7-2, Paperback--144 pgs.
$13.95 Total per book includes postage.
Make check or money order or any correspondence to:
Robbie Patton 10002 Aurora Ave. N. #1110 Seattle, WA 98133

Please allow 6 to 8 weeks for delivery.
---
---
---
---
---
Pettibone's Law

By John Keene
A darkly satiric, hilarious novel about the air war in Vietnam, in the tradition of Catch-22.
ISBN: 155704547
COST: $14.95
Available through Amazon Books, but don't forget to come "Back."
---
---
---
---
---
Pop A Yellow Smoke
By W. Charles Truitt

Pop A Yellow Smoke and Other Memories tells of a U.S. Marine's time in Vietnam. The 28 chapters chronologically cover the author's tour of duty from July 1969 through August 1970. The stories, are true, poignant, and often humorous.
In addition to the 28 chapter/stories, the book has about 185 pictures that are placed throughout the book; they are not all compiled into just a few pages, so every time you turn a page there is a picture, a map, or a diagram, etc. Additionally, there is a comprehensive glossary, a history section (why we went to Vietnam in the first place - and not the press version either - the real reason), as well as a tribute to the guys that lost their lives in our combat unit, the 1st Radio Battalion in Vietnam.
Remember, It's not your typical war story - its not a blood and guts story, but an absolutely true, first hand account, a collection of 28 chronological chapters - that cover a combat tour in Vietnam (I was a Marine Gunnery Sergeant, and served from 1967-1981).
The stories are all very interesting, amusing, and some are poignant, and all are suitable for the whole family. Everyone that's read this easy reading book has really liked it, and had nothing but positive things to say!
ISBN: 1932124527
---
---
---
---
---
Potawatomi Tracks
By Larry Mitchell

Potawatomi Tracks is an 152 page poetic chronicle (sorta like Dante's "The Inferno"!) that covers Larry's combat tour of duty in Vietnam and the thirty years of PTSD, drug use, homelessness, alcoholism, and racism that followed upon his return to the world.
"I wish I had known more about PTSD when I first came back from Vietnam - maybe a lot of those years wouldn't have been lost in drugs and alcohol."
ISBN: 0974234249
---
---
---
---
---
POW/MIA
America's Missing Men
By Chimp Robertson

"POW/MIA" investigates this hot issue through interviews with individuals across the social spectrum--from Senators and journalists to soldiers and entertainers--asking the burning question:
Did we leave men in Southeast Asia?
Proceeds from the sale of this book benefit the Annual Veteran's Appreciation Banquet at Oklahoma State University, Stillwater, OK.
ISBN: 0-91498-464-0
Known Retail Price: $19.95 (plus tax and shipping)
Order from
Starburst Promotions
1-800-441-1456
or
order signed copies
for $20.00 plus $3.00 shipping from
Chimp Robertson
5505-A, West 19th Ave
Stillwater, OK 74074
---
---
---
---
---
The Protected Will Never Know
By Donald P Meyer

Entering the Army in June of 1969 and "In Country" by November, there began the journey. Vietnam was more than just a war. Vietnam was also the oppressive heat of the jungle, the bugs and mosquitoes, the snakes, the swamps and rice paddies, the monsoon rains and the constant grind of "Humping the Boonies." But surviving Vietnam was more than dodging a bullet. It was about surviving your Tour of Duty with your mind and body still intact.
The Protected Will Never Know is a collection of personal stories based on the time Meyer spent in Vietnam from 1969 to 1970. He was drafted in June of 1969. Based on his journal, letters home and other documents, Meyer was able to piece together a journey of his time "In Country" and recollections of his Vietnam experience. Meyer also gives us a look into historical events such as the November 1969 war protest march of about a quarter million people in Washington DC, which was happening at the same time Meyer arrived in Vietnam. The charges and subsequent court martial were starting to surface for the Songmy (later known as the My Lai) massacre. The Vietnam "conflict" was then under the direction of the fifth different US president, twenty-fifth year of US involvement and fifth year of direct US combat operations. Peace talks were underway in Paris. (Well, sort of).
ISBN: 0595304060
---
---
---
---
---
THE PROUD BASTARDS

By E. Michael Helms
"A stunning account of war, seen through the eyes and mind of one young Marine."
--The American Veteran.
ISBN: 0-9653966-4-9, 240 pages
Known Retail Price: $17.95 Total each ($14.95 per copy, plus $3.00 shipping and handling)
Florida residents add county sales tax
Send check or money order to:
Karmichael Press
HC 3, Box 155D
Port St. Joe, FL 32456
Contact the author at Michael Helms
---
---
---
---
---
PROUD TO SERVE:
The Saga of Wolfgang O'Neill

By R. N. Price, GySgt, USMC (ret)
"Marine author, R.N. Price, delivers a Kiplingesque tale with which male military readers, particularily, will quickly identify. A sequel -- or series -- is a given."
--Lt. Col. Keith Oliver, USMC, Public Affairs.
ISBN: 1-885487-08-8
LOC: 94-0792250
PRICE: $15.95 Total each ($12.95 per copy, plus $3.00 shipping and handling)
ORDER FROM:
R.N. Price
136 Harding Road
Niceville, FL 32578
---
---
---
---
---
Psychedelic Six
By Paul Spock

Psychedelic Six is the story of Sylvester Wright, and insecure and immature young man at the threshold between adolescence and adulthood. In an effort to gain the approval of his tough and demanding father, and the respect of his bullying peers, Sly joins the Army and volunteers for combat duty during the Vietnam War. Upon his arrival in the war torn country, he meets Tan, a Vietnamese man who had recently defected from the Viet Cong.
Tan befriends Sly and the two men join Green Platoon of Alpha Company, located in the marshy heart of the Mekong Delta. Sylvester, Tan and Green Platoon battle against the Viet Cong and the North Vietnamese Army, and over time they are changed drastically. Green Platoon is transformed from a group of pot smoking drunks into a crack combat unit that the enemy comes to fear and respect. Sly develops into a confident, mature leader of men who learns much about bravery, life and love from his Vietnam experience. Sylvester also comes to love the country and its people in general and one beautiful, young Vietnamese woman in particular.
Over time, he resolves his internal struggle concerning his father's approval and his peer's respect. The unique climax finds Sylvester, Tan and Green Platoon fighting to survive a terrible, two-day battle against a totally unexpected enemy that outnumbers them ten to one.
ISBN 1-4120-8236-6
---
---
---
---
---
Purple Sun
By Lawrence McAuliffe

The Master Sergeant and the Lieutenant have little in common and don't much like each other. However, they share mutual concern about a twice-wounded young soldier who, they suspect, abandoned his unit while under enemy fire one night in Vietnam. Is it possible that he could still be alive? They finally return to that country 28 years later to try to discover, if possible, the truth about whatever happened to the youth.
A former Viet Cong soldier, who carries his own scars and memories, is their guide. The journey takes them from the monastery of the Purple Sun around the world to the mountains of Wyoming, where a small-town newspaper editor becomes entangled in the enduring mystery of Billy Kern.
In 1968-'69, as a former Marine lieutenant, Lawrence McAuliffe returned to serve in Vietnam as a chaplain up along the DMZ, and is a disabled veteran of that conflict. Emerging from that experience -- after years of reflecting on the suffering, meaning and worth of that long-ago war -- is this redemptive, purgative story. It is a story of our time that may lead many to rethink their concepts of heroism.
# ISBN: 094267927X
---
---
---
---
---
---
---