The Last Hookers
By LTC Carle E. Dunn, USA-Ret.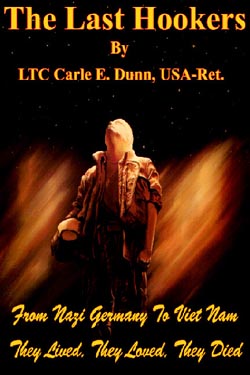 Colonel Dunn brings to life worldwide events that led America to Viet Nam. From President Truman to President Nixon, he shines light into dark corners of the Central Intelligence Agency, the National Security Agency, and the White House. Based on fact, he traces events from Germany, Japan, Great Britain, France, North and South Viet Nam and the United States that made America's involvement in Southeast Asia unavoidable.
Follow Legionnaire Jean Danjou as he places navigational beacons for American B-29s to drop atomic bombs at the Battle of Dien Bien Phu. Learn fearsome events that put the United States a word away from atomic attacks against Communist China and the USSR, 19 times.
Frederick Earling shows the CIA fighting a decades long, secret war in Laos. Lanny Briscoe reveals the NSA's role from World War II to Viet Nam. The Last Hookers puts you in cockpits with Army aviators throughout battles in Viet Nam. Fly with the 362nd Aviation Company as it fights North Viet Nam's most intense effort to capture Saigon.
Of books about America in Southeast Asia, The Last Hookers is the most comprehensive. You will become stunned at its vivid disclosures. You will wonder how they survived.
ISBN: 0759655928
Available at major bookstores and discount houses
Example: Bamm.com
---
---
---
---
---
The Last Parade

By Hiland B. Doolittle
Hiland served in Vietnam from January 1967 through May 1968.
---
A powerful review is posted on the Web Site of Gunny Fallon at:
---
More Reviews:
"The Last Parade is the For Whom the Bell Tolls of the Vietnam generation. This love story amid the chaos of war takes you captive and leaves you aching."
-- Robert E. Lee Taylor

"The Last Parade is one of those books you pick up and forget to put down while you enjoy letting love and war fight for your emotions."
-- Libby Treadwill

"Truly a side of Vietnam we all knew existed but few of us saw or experienced. The world has waited too long to hear this story."
-- Sgt. Jack Mazar

"The Last Parade is a spellbinding love story in which any reader will become thoroughly engrossed. Hiland Doolittle's epic is to the Vietnam War what From Here to Eternity was to World War II."
-- Larrie Calvert
---
For PX Bookshelf viewers:
"I will discount my book, which is a beautifully manufactured hardcover - limited first edition, to $20.00 including an inscription, autograph, and the shipping. It is a personal package.
"The book can be ordered through the Web Site below. Viewers would have to *write on their order* -- whether by FAX, land mail or virtual order form -- that they saw this ad in the "VVHP PX Bookshelf" to claim the discount or order via our toll free number at 888-455-2305 (please have Visa / Mastercard ready). Again, they should indicate on the phone that they are ordering from this Site."
For ordering information, please access: Web Site
---
---
---
---
---
The Last Wolf Home
by Pat Clark

The Last Wolf Home is a story about three people who pass through each other's lives with profound consequences. Michael Edwards is the Air Force fighter pilot shot down over Laos in 1970 and left behind after a failed rescue attempt. Harry Garland is the hero who comes home from the war embittered by the abandonment of his missing comrades and the desertion of the people of Indochina. Elena Fernandez is the beautiful Cuban refugee who is loved by both these men. The tragedies in her life have happiness and she devotes her life to thedaughter whose father she believes is gone forever. In the end, the three of them cometogether in a scene that tests the courage, love, and honor in each of them.
The Last Wolf Home is the work of an Air Force Vietnam veteran fighter pilot and is a publish-on-demand book available through iUniverse .
It can also be found at major bookstores such as Barnes&Noble or Amazon.
ISBN: 0-595-17439-6
---
---
---
---
---
Life and Times of Igor Smith
By Gordon Neumann

A metafictional autobiography of an 11-Bravo, 1st Cavalry trooper in Vietnam and his struggle "back in the world" with drugs, sex, suicide, PTSD and a subsequent change in perception. Written by a former combat 1st Cavalry trooper.
Neumann says, "I took the trip and it's my duty to talk about it. Sometimes the truth is best told through fiction, even though the truth is sometimes stranger than fiction. The weirdest stuff I couldn't make up, and I'm way past trying to label it."
ISBN: 1410766330
---
---
---
---
---
Light Ruck
By Tom Lacombe

Here is one year in the life of a grunt serving as a rifleman in an Army infantry company. Mission: secure or "pacify" the Central Highlands of South Vietnam. Objectives: operations of the local Viet Cong forces; win the hearts and minds of the local civilians.
He doesn't want to be there, but, so what? It's 1969, his country calls, and there he is, in "the Nam" doing his time as a rifleman, and putting his life on the line. The enemy is always there, just waiting for the right situation. His presence is always feared. After all, it's his domain: a mountainous jungle environment, offering extreme heat, treacherous terrain, leeches, monsoon rains, malaria, poisonous snakes, and tigers. Not much fun for American soldiers under the best circumstances.
Then comes the command of the squad leader, "Saddle up, pack a light ruck! A recon patrol is in contact." Now, every move counts, and a guy does whatever is asked of him, not for God and country, but for the fellows in the front and rear.
He never considered avoiding the military--legally or illegally. He felt fortunate to live in the United States, and he wanted to do his part. He did his duty. This narrative speaks compellingly of a regular guy who served and sacrificed for what he thought was right.
ISBN: 1-893846-56-3
---
---
---
---
---
Long Daze at Long Binh - A Humorous Memoir
By Steve Donovan and Fred Borchardt

Two Army medics have recently published "Long Daze at Long Binh," a humorous memoir about their wartime experiences with the 24th Evac Hospital in South Vietnam. It's been getting excellent reviews, with the Vietnam Veterans of America online magazine calling it "the best book about REMF (Rear Echelon) life in South Vietnam during that time period... Nobody will top it any time soon, if ever."
Co-authors Steve Donovan and Fred Borchardt met the day they were inducted in Milwaukee. They struck up a close friendship immediately, never realizing they'd be following identical paths for the next two years. During their 16 months with the 24th Evac, they managed to perform the duties of more than a dozen different military occupations including hospital orderly, prisoner guard, emergency room assistant, armed sentry, jeep driver, translator and headquarters clerk.
---
---
---
---
---
Long Time Passing: Vietnam and the Haunted Generation
By Myra MacPherson

"There have been many books on the Vietnam War, but few have captured its second life as memory better than Long Time Passing." --Washington Post Book World
This new edition of a classic book on the impact of the Vietnam War on Americans reintroduces the haunted voices of the Vietnam era to a new generation of readers. In a new introduction, Myra MacPherson reports on the legacy of the war and its impact on contemporary political life, interviews a number of her principal characters to bring their stories up to date, and reflects on what has changed, and what hasn't, for the haunted generation in the years since these interviews were conducted. Included is information on the attacks on the WTC and the Pentagon, the war in Afghanistan, and their connections to the Vietnam War and to Post Traumatic Stress Syndrome.
ISBN: 0385470169
Indiana University Press
Phone Order: (800)842-6796
E-Mail Order
---
---
---
---
---
The Longest Way Home
By Arthur H. Barnes

This fictional novel tells the story of three different US service men who were caught stranded in the last moments of the Vietnam war and the five years it took them to get to a place where they could go home.
One of the men was a Special Forces sergeant, the second was an Airforce helicopter engineer and the third was a mud Marine. They come together for only one objective: to fine their way from Vietnam through Laos and Cambodia headed to Thailand.
---
---
---
---
---
Lost Survivor
By Thomas R. Jones

Johnny Douglas was a hard-working, God-fearing 25-year-old when he left his Springfield, Illinois home to fight the war in Vietnam. As he said goodbye to his mother and wife, he promised he would return — alive and well — in a year.
But, one year in the jungles of Nam took its toll on Johnny Douglas. In a world of kill-or-be-killed, nothing — not even his mother's lessons of right and wrong, or the word of God — could have prepared Johnny for the brutality he was forced to face. Instinctively, he adapted and survived. And, just as he promised, he returned home one year later.
When "JD" returned, his family thought the nightmare was over — and so did JD. But, surviving in Nam came at a price — a price paid by his family, friends, strangers, and even himself. The once-clear distinction between the streets of Springfield and the jungles of Nam was blurred as the war raged on — this time in his head. Johnny was different now. Nam changed him. Could he readapt to survive at home?
About The Author
Thomas R. Jones Sr. served in the Vietnam War in 1967 as a Senior Hospital Corpsman with the 3rd Recon Battalion, 3rd Marine Division. Although he survived the war, he - like so many war veterans - came back a different person.
---
---
---
---
---
Low Level Hell
A Scout Pilot in the Big Red One
By Hugh L. Mills, Jr. with Robert Anderson
This book is an account of one man's experiences in the Vietnam War as an aeroscout pilot. Hugh Mills is eminently qualified to write such a story. He served two tours in Vietnam as an aeroscout pilot..." "During that time he was shot down sixteen times, wounded three times, and earned numerous decorations for valor, including three Silver Stars, four Distinguished Flying Crosses, and three Bronze Stars with V devices.
ISBN: 0891417192
---
---
---
---
---
Lucky Enough
By Eddie Beesley

"As you can well imagine, since recording Tie a Yellow Ribbon in 1973 and from the first time I sang it live to the POWs from Vietnam, Cambodia and Laos at the Cotton Bowl in Dallas, TX -- to this very moment entertaining the troops in Afghanistan and Iraq, I have read many books on veterans and the military. Lucky Enough is a must read.
Eddie Beesley not only puts you there but makes you feel proud to be an American." -- Tony Orlando
---
"Ed Beesley glimpsed hell on August 31, 1965 near Chu Lai in Vietnam -- but his story is about other things -- achievement, courage, responsibility, grief, guilt -- and most especially love. This book touches the soul as few others do." -- Joyce Faulkner, author of "In the Shadow of Suribachi"
---
"Lucky Enough is not a war story, but a LIFE story that is still going on. It's a story filled with Love, Commitment, Dedication, Sorrow, Pain, Excitement, Disappointment, Fear, Responsibility, Patriotism, Courage, Bravery, Fortitude, and Duty.

Eddie certainly did not choose the hand that was dealt on that day in August, 1965. Connie did make a choice after they met in the Navy hospital, They are playing it to the best of their ability, and it looks like they are winning.

I feel Lucky Enough to be a part of their life." -- Len Zaborowski, Army Security Agency, Korea, 1955-1956
---
Web Site
---
---
---
---
---
The Mailbox
By Audrey Shafer

Vernon Culligan had been dead to the town of Draydon, Virginia, so long that when the crusty Vietnam vet finally died, only one person noticed. Twelve-year-old Gabe grew up in the foster care system until a social worker located his Uncle Vernon two years before. When he comes home to discover that his uncle has died of a heart attack, he's terrifed of going back into the system--so he tells no one. The next day, he discovers a strange note in his mailbox: I HAVE A SECRET. DO NOT BE AFRAID. And his uncle's body is gone.
Thus begins a unique correspondence destined to save the two people that depended on Vernon for everything. Through flashbacks, we learn about Gabe and Vernon's relationship, and how finding each other saved them both from lives of suffering. But eventually, Vernon's death will be discovered, and how will Gabe and the mystery note writer learn to move forward? THE MAILBOX is not a story about death--though it begins with a death. It's also not a story about Vietnam vets, although the author works with Vietnam veterans and wrote this novel, in part, to illuminate their sacrifices and suffering. THE MAILBOX is a story about connections--about how two people in need can save each other.
This is a children's novel - ages 9 years and up.
ISBN: 978-0-385-73344-1 (0-385-73344-5)
---
---
---
---
---
Manchu Delta, A Vietnam War Story
By E. R. Bridwell
"'Manchu Delta,' in the starkest sense, is a Vietnam war story. It is a war story too many of us have not heard, a war story too few veterans have forced themselves to tell. Bridwell describes boredom that was as oppressive as fear, revenge as satisfying as safety, and heroism that is still chilling. 'Manchu Delta' honestly records one man's Vietnam war. In the process, Vietnam becomes our war story as well."
---
Price: $7.95 (includes S&H)
Payable to:
E. R. Bridwell
6515 York Rd.
Helena, MT 59602
ISBN: 0-934318-75-1
Library of Congress No.: 85-73150
---
---
---
---
---
Man of the River

By SMC Jimmy R. Bryant, USN
Powerful...an epic, true story about the U.S. Navy's courageous campaign on Vietnam's rivers -- a Memoir of a Brown Water Sailor in Vietnam, 1968-1969.
---
"Man of the River" is about Riverine Warfare in Vietnam and gives an up-close, first-person account of what the well-armed, small, thirty-one-foot-long, fiberglass boats that worked in pairs were involved in while fighting the Vietcong and North Vietnamese army.
This is a non-fiction book supported by actual patrol action reports, charts of the rivers, and numerous photos of what these patrols faced daily and nightly on the dangerous rivers of that country.
---
For prices and ordering information, please E-mail the author at: Jimmy R. Bryant
Or Phone: (901) 386-2217
ISBN: 1-887901-23-X
Copyright 1998
---
---
---
---
---
March of the Skeleton Men
by Harry Hardwick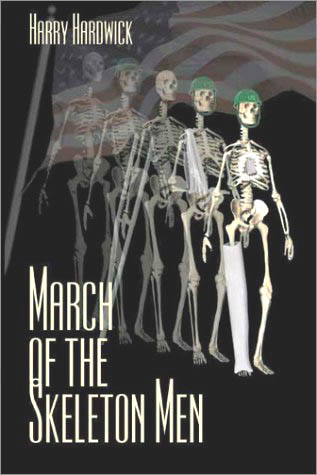 Like all wars, Vietnam has its legends. Among combatants, stories of heroes and battles are told and retold. These we know. Less familiar are those related by former POW's and their loved ones, tales of MIA's who survived, yet never came home. These, though denied by both sides, endure as only truth endures.
Kept as slaves long after war's end, word of their survival has leaked out piecemeal over decades. By word of mouth, in lists smuggled out by POW's, in dogeared photographs-in hundreds of ways, through scores of eyewitnesses, evidence of their survival amounts.
Despite everything media and government have done to discredit the whistle blowers, stories of the men we left behind refuse to go away. In March of the Skeleton Men, Four American and one Australian POW are thrown together, first during the war, then later in the post-war camps we have been told never existed. Drawing strength from each other to survive conditions unimaginable to anyone who has not been a guest at the Hanoi Hilton or prisons like it, they survive long after their comrades have returned to 'the world.' Each has one goal, one desire, one hope that keeps them alive-to make it home again.
Harry Hardwick served in the Army 1968-1969 with the 1st Logistical Command, 48th Group, 352nd Transportation Company.
ISBN: 1930859260
MARCH OF THE SKELETON MEN is available at major book stores
or can be ordered direct at 800-431-1579
from Elderberry Press
---
---
---
---
---
MARINE HELO

By Captain D. M. Petteys
Helicopter War in Viet Nam with the U.S. Marine Corps
---
---
---
---
---
The Mark
By Jacques Leslie
Jacques Leslie was a war correspondent in Vietnam. His book "The Mark: A War Correspondent's Memoir of Vietnam and Cambodia" comes highly recommended.
This link will take you to Jacques' Home Page where you can read the prologue to the book, but don't forget to come "Back."
ISBN: 1-56858-024-X
Known Retail Price: $22.00
Immediate Orders: 1-800-626-4848
---
---
---
---
---
Medics Wild

The "M*A*S*H" of Vietnam!
Copies are only $7.50!
Please make checks/money orders out to and mail to:
Darrell Bain
251 Santa Claus Lane
Shepherd, TX 77371
Include a note with your name and FULL return address.
ISBN: 1-55197-445-2
copyright © 1997, all rights reserved
---
---
---
---
---
Meet Me At The Wall
By Wayne McCormick

ISBN: 1-886825-00-9
Known Retail Price: $7.95 ($10.95 Canada)
A story of events in the lives of the family members of the Last POW - Last MIA of the Vietnam War.
For contact with the author use this direct mail form.
---
---
---
---
---
"Memories Are Like Clouds"
By Diana Dell
(A childhood memoir set in the 1950s)
copyright © 1996 by Diana Dell
Diana Dell went to Vietnam in 1970 with the USO after her brother Kenny was killed in the Mekong Delta. She was a program director in Cam Ranh Bay and director of public relations in Saigon, where she hosted "USO Showtime" daily on American Forces Vietnam Network radio. She also set up "Feed the Children" programs in orphanages, coordinated programs and publicity for the 14 centers in-country, and escorted USO shows around Vietnam (from the Delta to the DMZ).
After leaving Vietnam following the Easter Offensive in 1972, Diana worked in Europe for a year as publicity director at the Frankfurt USO and two years as a free-lance writer and photographer in Athens and Madrid.
After selling an advertising agency that she owned in Boston for ten years, Diana taught Vietnam War history classes at Tampa College.
Remembering Kenny, this nostalgic book is a growing-up memoir about one of America's heroes and those who loved him.
Diana can be reached via email at: write@tiac.net
---
---
---
---
---
Memories Of Maggie
By Noonie Fortin

Martha Raye spent over two years "in country" in Vietnam entertaining for and caring about our troops. She received the Presidential Medal of Freedom in 1993, the highest award America gives to civilians.
Noonie Fortin, a Vietnam-era Army veteran, spent seven years gathering hundreds of letters from Veterans who knew Colonel Maggie to compile this book.
ISBN: 1-880292-18-1
Known Retail Price: $15.95
Published by LangMarc Publishing
PO Box 33817
San Antonio, TX 78265-3817
1-800-864-1648
ADDITIONAL BOOKS BY NOONIE FORTIN
Potpourri Of War - Additional information about Martha Raye and women in the military.
Women At Risk - Profiles more than 60 women who served our country either in the military or as civilians during peace and/or war time.
---
---
---
---
---
Men Made For War
By J. R. Gathings
Thirty years later they went back to discover the truth and finish the job. Men Made For War has captured as no other novel has, the courage and determination, and also the fears and frustrations, of the Vietnam soldier, both then and now. This action/adventure novel explores Vietnam veterans haunted by the past while trying to cope with their present-day lives.
The author, himself a Vietnam Veteran, has brought to life with stunning realism the state of mind of the American soldier. The yearnings of each Vet in his own heart to go back and finish the job is strikingly realized in this gripping novel.
Autographed copies of MEN MADE FOR WAR are available in paperback for $12.75 ($9.95 plus $2.80 postage/handling).
Send check/money order payable to:
Adjutant Press
P. O. Box 8221
Wimington, DE 19803
---
---
---
---
---
hardbound is $34.95, and the handling charge is $6 for the envelope, the postage and the insurance
Mercy Warriors: Saving Lives Under Fire
By John "Doc" Combs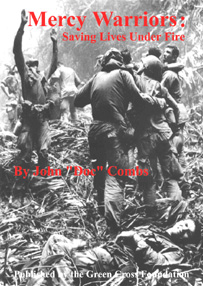 All medical participants from battlefield and dustoff to travel aides, battalion aid stations and hospital personnel participated in this project. This includes doctors, army medics, navy corpsmen, army nurses, navy nurses aboard The Sanctuary, and grave registration personnel who were in Vietnam from 1965 to 1972. The book hopes to educate the military and medical branches so that there can be no more Vietnams.
**This book is about the medical chain in Vietnam - Readjustment & P.T.S.D.**
The book may be ordered in either paperback or hard bound (when available). Please allow 2-4 weeks for delivery. All orders carry a $6.00 shipping and handling charge for each book mailed for a total of $34.95. Overnight and 2-day charges are extra.
If you pay by credit card fill out this form
or you can mail a check for $34.95 (Fla. residents add $1.75 tax) to:
John A. Combs
24016 E. Bobcat Road
Astor, FL 32102
(352) 759-2476
Email Link Here
---
---
---
---
---
Mike Force:
Two Years of War Serving with the Green Berets' Mobile Strike Force
in Viet Nam
By Lt. Col. L.H. "Bucky" Burruss, USA (Ret.)
---
"Truly reflects 'the way it was' in special forces."
--Lt. Gen. William P. Yarborough, USA (Ret.)
"Bucky Burruss was...an honest, courageous, loyal leader of men. To serve under him was a signal honor....It was the worst of times and the best of times--and Bucky was the best we had, ever."
--Command Sergeant Major William E. Edge, --U.S. Army Special Forces (Ret.), --former top-ranking NCO of the Green Berets
"Bucky Burruss is a born warrior....What sets him apart is that he can write and write well. Anyone who wants to know what being a soldier is all about should read MIKE FORCE."
--David C. Martin, --Pentagon correspondent, --CBS News
---
ISBN: 0-671-66945-1
Known Retail Price: $5.50
---
---
---
---
---
"Military Veterans PTSD Reference Manual"
By © MSG. I. S. Parrish, USA Retired
"This IS the BEST publication on the market today about PTSD in Military Veterans and on obtaining a disability for PTSD."
---
---
---
---
---
More than a Band of Metal
Loveletters From Those Who Care
Compiled and edited by the P.O.W. NETWORK

Three decades later, millions of Americans still wonder what happened to the Vietnam Prisoner of War whose name was on the metal POW bracelet they wore. Did he come home yet? Did his family ever find out what really happened to him? They still have these metal bands tucked away in jewelry boxes as a special part of life never to be forgotten. The meaning never lost to them, the bracelet never thrown away.
This new book, More than a Band of Metal, contains Loveletters from the bracelet wearers to the families of the men still missing. They were selected from thousands of letters received by the P.O.W. NETWORK, an Internet-based organization that compiles and disseminates information on prisoners of war, helping to keep the battle to "bring them all home" alive. These letters reflect the generation's very personal and heartfelt concern for "their" soldier, sailor, airman or Marine. Share in the joy, pain, wonder and loving memories as strangers reveal their thoughts about the men they never met and what wearing the bracelet has meant to them. Share also in a behind-the-scenes look at one of the largest grass-roots movements ever, the Americans who have fought bravely here at home to gain the release of those held captive during the Vietnam War.
A valuable reference sections give statistics for POW/MIAs from all wars, lists all the men that survived captivity and made it home, and records the list of remains that have been returned since the end of combat in Vietnam, Laos and Cambodia.
ISBN 0-9723585-0-1
---
---
---
---
---
M.P.
by John Schembra

June 1967 - As Vincent Torelli stepped off the plane at Bien Hoa Air Base, South Vietnam, he was almost overwhelmed by the stench in the hot, humid air. He still had a hard time realizing he was in Vietnam. Drafted into the armed forces five months earlier, he ended up becoming a Military Policeman, assigned to the 557th MP Co. at Long Binh Post just outside Binh Hoa City.
His year tour of duty in Vietnam changes him from a somewhat naïve young man to a battle hardened veteran. Through unlucky chance, Vince becomes involved in the ferocious '68 Tet offensive, barely surviving the night. He sees and experiences things he could never have imagined before Vietnam.
This is Vince's story, of how he survived that year in Vietnam, how he coped with the hell he faced, of the friendships he formed, and of the sorrow of lives lost.
Available in print, electronic download or CD format.
---
---
---
---
---
My Rock `N Roll War

By Don Morrisson
'My Rock `N Roll War' is a true and moving story of a a nineteen year old rock drummers tour of duty in war-torn Vietnam. Using vivid word pictures, master storyteller Don Morrisson is the first to reveal what it was like for many of the three thousand Australian entertainers who toured Vietnam.
Share the laughter, tears, love, excitement, confusion, and fear as the group 'Xanadu' tour from Vietnam's Delta to the DMZ. This is a book you won't be able to put down.
Paperback, A5 : 318 pages, 3 sections of plates, 77 photographs
ISBN 09577 167 0 2
To Order " My Rock `N Roll War"
Postal Address:
Dog-Tag Books
P.O. Box 159
Bracken Ridge
Queensland 4017
Australia
email: don@1.elfa.com.au
FAX: (Area code 07) 3269 1400
Price: $25 Aust. + $6 Aust. postage and handling
Money orders, Visa, Bank Cheques


---
---
---
---
---