---
---

---

---

---

---
G(eneral) I(ssue) Blues, Viet Nam to Here:
A Warrior's Tour
By Captain Sonny Gratzer, Ret.

Sonny was medically retired in 1968 with severe wounds and earned the SS, SM, BSw/v&OLC, and PH w/2OLC.
Sonny's book of poetry was published Veterans Day 1997 in Butte, MN. "G.I. Blues..." is a moving, gutty, realistic book of experiences related to Vietnam, Sonny's war, and his injuries.
Sonny was the best of the best as a company commander (2/2nd Mech.Inf, 1st Inf Div).
This book is published by:
Heartland Journals
Box 9292
Missoula, MT
Telephone: 1-800-588-9492
---
---
---
---
---
The Ghosts of Vietnam
By Jim Stewart

Raised in rural northeastern Maryland, Jim Stewart spends his childhood playing baseball, catching frogs in the woods, and learning to play guitar. A personal tragedy strikes the day he graduates from high school. Jim finds the need to leave home and joins the army in February of 1966.
After a grueling stint in basic training, Jim is shipped off to Vietnam as a military policeman. He endures mortar shelling, takes part in Operation Cedar Falls, and makes lifelong friends along the way. While stationed at Saigon, he even meets a girl, falls in love, and has a child.
After his tour of duty ends, Jim returns to Vietnam determined to be with Mai. When he starts working at the Army Post Exchange in Saigon, Mai gives birth to their daughter. Jim insists they move to America, but Mai refuses. Jim then makes a decision that will haunt him the rest of his life.
Rich with detail and brimming with emotion, Jim shares his extraordinary journey through a tumultuous time, revealing his internal struggles as he copes with The Ghosts of Vietnam.
---
---
---
---
---
Global Mom
By Lana Noone

Byron and Lana Noone began their adoption journey in 1974, when a Social Worker at a large N.Y. Adoption Agency asked..."Have you considered adopting a baby from Vietnam?" Lana says "A light bulb went off in both of our heads at the same moment. We turned to one another, and then to the Social Worker, and said "That's a great idea! When can we begin?"
That was the start of an adventure which would involve them in the Vietnam Babylift, one of the great humanitarian efforts of the 20th century. It included more than 3,000 Vietnamese and Amerasian children, most of them orphans, flown to the US and other English-speaking countries in April 1975 as part of President Gerald Ford's "Operation Babylift."
Along the way, they encountered many issues while raising two wonderful children from Vietnam and Korea in a New York suburb.
Mrs. Noone addresses topics that range from racism and culture, to the teen and college years.
The message of the book is: We were a "pioneer" adoptive family. We raised our children when there were no adoption camps, few role models, and many societal challenges. We thrived, and so will you. Mrs. Noone says "and when your children reach the 'other side' of childhood, you will all be blessed."
Web Site
see "Books and Films" section
---

---

---

---

---
God In The Trenches
A History Of How God Defends Freedom When America Is At War
by Larkin Spivey

Larkin Spivey is an author, decorated Marine Corps veteran officer, and former professor of military history. He was with the American blockade force during the Cuban Missle Crisis, commanded infantry and reconnaissance units in Vietnam, and served in the White House during the Johnson and Nixon administrations.

Spivey provides gripping accounts, backed up by credible historical evidence, that the history of the United States was swayed many times by a hidden hand.

God In The Trenches is available at fine bookstores everywhere.
Volume discounts are available for churches, schools, groups and other organizations.

To order a copy now:
Call toll-free, 1-866-887-1900, between 8:00 a.m. and 5:00 p.m., EST.

or

Write to:
Allegiance Press
11350 Random Hills Road, Suite 800
Fairfax, VA 22030.

Please include $13.99, plus $1.75 shipping/handling.
Orders must be prepaid. No billing. We accept major credit cards.

You may also purchase God in the Trenches from Amazon.com or Barnes & Noble.
---
---
---
---
---
Goodbye Vietnam
by Robert W. Wood

This collection of fictional remembrances of a Marine during the Vietnam conflict is told in a series of short pieces that describe the particular horrors of this war through one man's eyes. From "The Gift," a story about boot camp and his love-hate for the drill sergeant, to "Zelda Waiting," which finds him leaving Vietnam "packed in the back of a truck with all our paraphernalia and our travel brochures," these vignettes take the reader into the dark world of this war.
Robert W. Wood served in the 3rd Marine Division during the Vietnam War.
ISBN: 1590960009
---
---
---
---
---
Grief Denied: A Vietnam Widow's Story
by Pauline Laurent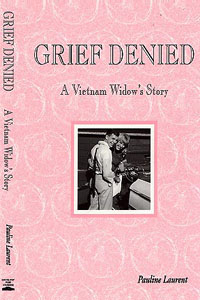 Grief Denied: A Vietnam Widow's Story, is the first widow's book to come out of the Vietnam war. It tells the riveting story of how the author came out from under the suffocating weight of her own silence to find personal expression, a sense of liberation, and a renewal of faith. This book is a deeply moving, inspirational memoir which will provide and promote healing for the unresolved grief still haunting many Americans.
Paperback, 5.5 x 8.5
232 pages, $14.95
ISBN: 0-9671424-0-7
Pub. Date: November 11, 1999
---
---
---
---
---
Gun-Totin' Chaplain
By Jerry Autry

"Gun-Totin' Chaplain" is the author's gripping chronicle of his year of duty in Vietnam. From the draft notice he received on his wedding day through airborne jump school and his subsequent service in Vietnam, the reader follows a man of peace as he ministers to men at war. Chaplain Autry is one of the most highly-decorated chaplains of the Vietnam era, having earned two Purple Hearts and nine awards for valor; this book illustrates the value of the chaplains and their incredible importance to the troops.
During his year in Vietnam, Chaplain Autry spent more time in the field with the troops than in rear areas, a choice that vexed his superiors. His wartime experiences propelled him through a lifetime of comforting the afflicted and afflicting the comfortable. Assigned to the fabled 101st Airborne Division in 1968, the author served as pastor to men of all faiths and in any unit that needed him, including Marine and Special Forces teams along with airborne infantry and artillery units. The author's memoir is followed by a sharply-written epilogue containing his commentaries on the current war in the Middle East and its painful similarities to Vietnam. Chaplain Autry retired from the Army as a Colonel after 29 years of distinguished service.
ISBN is 0-934145-11-3
Proceeds from the sale of this book are donated to the Vietvet Family Project
---
---
---
---
---
Hanoi, adieu
By Mandaley Perkins

Hanoi, adieu is a memoir of the fragile beauty and dark undercurrents of the years of French occupation in Vietnam. Michel L'Herpiniere was a child of the French empire who arrived in Hanoi in 1936 with his family as a teenager. The family became enamoured with the country and the story follows the next fifteen turbulent years: through Michel's school and university years, his loves and opium addictions, his soldiering experiences, through resistance and incarceration and starvation under the Japanese, his marriage to a planter's daughter and the loss of their estate, through his experiences during the Vietminh seige of Hanoi and its aftermath, and his desperate attempts to keep his business going and raise a family in Hanoi long after most French civilians had left the country. The story is inevitably entwined through the traumatic events of the time, including the Japanese occupation in WWII, the post-war Chinese occupation, the rise of the Vietminh, the fall of French Indochina and the beginning of the American involvement in Vietnam.
Of what has been published in English of the period, most has been written by people who were in Hanoi only briefly or who were never there at all. For this reason, Michel wanted his story told. Mandaley worked with him closely in writing this book, trying to recreate the most vividly remembered scenes in his life. They are his experiences, his memories, his sentiments. Only the words are hers.
---
---
---
---
---
Hitchhiking from Vietnam: Seeking the Ox
By Richard Chamberlin

Hitchhiking from Vietnam is an account of Vietnam veteran Richard Chamberlin's meandering journey to fulfillment during the 60's and 70's based on an actual cross-country hitchhiking trip the author took when he was 30 years old.
The story starts in 1975 in the liberal enclave of Madison, Wisconsin. While the war in Vietnam has just ended and Chamberlin has been out of the service for five years, he is still trying to put his life back together. The first chapter begins in a run-down Madison laundromat where the author meets a mysterious character named Ken-Adi whom he hopes might be his guru. The two of them decide to take off on an adventure together and hitchhike to San Francisco.
The trip becomes a spiritual quest and a window into the past. The central part of the book is a series of flashbacks of Chamberlin's experiences with the Navy's Seabees in Vietnam. While there he wrestles with the absurdities and paradoxes of that war just as today's veterans will have to deal with the contradictions inherent in the current war in Iraq. At the end of the book the author has a conversation with an old friend who inadvertently helps him put the pieces of his life back together as they watch horses cavort in a corral at sunset on the outskirts of Ft. Collins, Colorado.
ISBN: 978-0-9789093-0-7
---
---
---
---
---
Highest Traditions
By Tony Lazzarini

Fly in a UH-1D (Huey) helicopter in Vietnam as a door gunner when the average life span was an expected 20 seconds in combat. Learn about the equipment, men and missions. A different kind of war story takes the reader inside the author's mind during his 21 month tour of duty. Read how helicopter missions were flown and why. Fly with the 25th Aviation "A" Company "Little Bears", one of the most decorated helicopter units of the Vietnam War. The book includes twelve full-color pictures.
Tony Lazzarini is a prize winning playwright (Tale of the Toy Soldier) and award winning writer (Never Trust A Man In Curlers). Extending his original tour of duty in Vietnam from twelve months to twenty-one months, he flew over 250 helicopter missions and was awarded twelve Air Medals including three for Valor.
ISBN 1-891555-02-2
---
---
---
---
---
Highway One: A Vietnam War Story
by James E. Davidson
An offbeat satire about American military advisors in cultural conflict with the people they were sent to help. This is a sometimes funny, sometimes tragic, but always thought provoking "war story" about the "Vietnamization" of the United States' war effort in Vietnam. It will leave you with an uneasy feeling as we enter "America's New War", and become entangled in long term commitments of our young military men and women in cultures so unlike our own.
Highway One: A Vietnam War Story is a story about a young Army lieutenant who is sent to a small village during his last fourteen days in-country to build a rifle range for the local Popular Forces as part of the Vietnamization Program. It is a story about a short-timer who only wants to put in his time and get home safely, but his simple mission is complicated by Pentagon planners and a beautiful young woman in the village who is mysteriously close to the local Viet Cong.
Highway One: A Vietnam War Story is also a story about cultural conflict. It looks at the role of American military advisors in Vietnam, the forerunners of themen and women who are becoming more involved in foreign policy around the world today. It shows how Americans lack the one thing most "third-world" cultures have when it comes to fighting and winning a war - the concept that war will proceed at its own pace.
Price: $14.95
ISBN: 0595196543
---
---
---
---
---
Holding the Hand of Darkness
by Arthur Hood

From the month that Sputnik was launched by Russia through the endless battles of the Vietnam War, airplanes grew more sophisticated, politics more sinister, and warfare more insane. Boys who were children during World War Two became the airmen of the Cold War and the Southeast Asian Conflict. The airplanes they flew were the first of the jet age and were often more dangerous than enemy air defense systems. American aircrews wrote new tactics, but were handicapped by the new "rules of engagement."
There are times when a government is confronted with implacable evil and is forced to lead a nation into war. When there is no reasonable alternative to war, the objective must be to win and to do so quickly. But there was nothing quick about the Cold War or the Vietnam War. Our leaders had learned nothing from the past; they hid their activities from Americans behind the veil of national security. They used the trust, innocence, and bravery of a generation of young men to further their positions of power. Airmen who were killed or captured as a result of this leadership were ignored and denied. Many were left behind. They kept the faith-their country did not. And their families paid the ultimate price.
ISBN: 1-932303-51-0
---
---
---
---
---
Honor The Warrior
The United States Marine Corps In Vietnam
By William L. Myers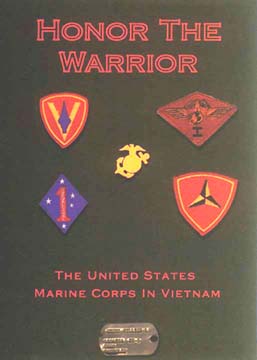 ---
Honor The Warrior is a collection of first person accounts of Marines in combat in Vietnam.
The author will inscribe each book, as you desire if you desire. It is his hope that everyone whose name appears in the book will have a chance to read it.
Redoubt Press, 294 pages, map.
COST: $25.00 plus $3.00 S&H
ORDER:
William L. Myers
183 Steiner Road, #117
Lafayette, LA 70508-6000
CONTACT:
William L. Myers
---
---
---
---
---
A Hot Rain: A Memoir about my days in Vietnam
by Robert H. Dirr Jr.

Robert Dirr served during the Vietnam War as a Hospital Corpsman, with 'B' Company, 1st Btn, 3rd Marines, in 1967-68. Long afterwards, he went to Miami University of Ohio (class of 1998) to learn how to write about the true experiences of his Vietnam tour
He says: "I write to EDUCATE those who were not there and to HONOR those who were."
---
---
---
---
---
Hunger of the Heart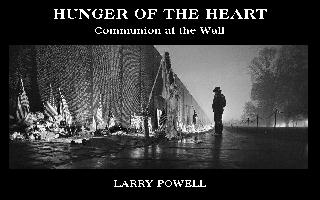 By Larry Powell,
Vietnam veteran and
Award-winning photojournalist
A book of photojournalism on the Vietnam Veterans Memorial, documenting those who come and the gifts they bring. His photographs are valuable and rich because he preserves the environment in which the gifts were recorded - the Wall, the people, the gifts are one.
Here are five pictures from Larry's book.
Retail Price: $18.95, plus S/H
(see "Book Review" for ordering information)
Immediate Orders: 1-800-557-9867
ISBN: 0-9641919-4-6
---
---
---
---
---
I Served
By Don C. Hall and Annette R. Hall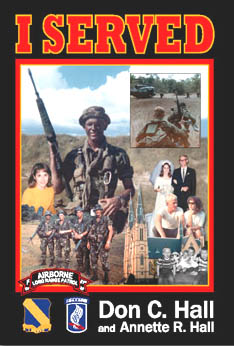 In the first hours of the 1968 Tet Offensive in South Vietnam, the men of Co. F, 51st Long Range Patrol (Airborne) Infantry stopped hundreds of VC and NVA from reaching their objective: Saigon and the Long Binh/Bien Hoa military complex. If F/51st LRP had not been there, Saigon and Long Binh/Bien Hoa would have been overrun. Hundreds, if not thousands, of American soldiers and South Vietnamese citizens would have been slaughtered and Saigon would have fallen. Don Hall was a team leader in F/51st LRP. I SERVED is his story.
"I SERVED is a first-person account of the lonely childhood and manhood rites of passage of a Catholic orphanage schoolboy and plankholder in Company F, 51st Long Range Patrol (Airborne) Infantry. From separation from most of his siblings, to life in an orphanage in Virginia, to the dank jungles of Viet Nam, and finally to homecoming and marriage to his childhood sweetheart, Don Hall tells his story. I SERVED takes us on a journey we cannot stop once the first page is turned."
--CSM Jeff Mellinger
Category: non-fiction
ISBN: 1-55212-489-4
Price: $27.00 (U.S.)
WHERE TO ORDER I SERVED:
Online
Email
Toll free: 1-888-232-4444 (U.S. & Canada only)
Phone: 250-383-6864
Fax: 250-383-6804
---
---
---
---
---
Images From The Otherland
By Kenneth P. Sympson

Memoirs of a United States Marine Artillery Officer in Vietnam.
Published by iUniverse, Inc.
Forward by General P.X. Kelley, 28th Commandant.
"For two decades Sympson thought little of his tour of duty as a Marine artillery officer in Vietnam. This book began as an exercise in self-therapy, an attempt to discharge the emotional burdens he had unknowingly carried for so many years."
ISBN: 0786401443
Available in hard cover (ISBN 0-595-65475-4)
or soft cover (ISBN 0-595-2569-3)
from iUniverse.com
Read the reviews on Images from the Otherland
---
---
---
---
---
An Infantry Lieutenant's Vietnam
By Ivan N. Pierce

By a Platoon Leader with the 4th Infantry Division from January 1967 to March 1968
ISBN: 0974859508
---
---
---
---
---
In The Grass
By Horace Coleman
(A Book of Poems)
"Nam vets know what "in the grass" means. After you've read this book, you'll feel the chaos and confusion of war and know of the miracles and misery in the mud...and some fine writing."
ISBN:
Known Retail Price: $
---
---
---
---
---
In Their Own Words - Vietnam An Audio Series by Topics Entertainment It was a conflict as controversial as it was calamitous, with the dubious distinction of being the first war ever fought on television. But beyond the images of battle-ravaged Vietnam lie exploits of some of the war's elite Allied mavericks, recounted here In Their Own Words. With you-are-there narration by the men who actually were, this 8-cassette suite reveals the precise and riveting preparation for, and aftermath of, clandestine missions. Relive the exploits of the Tunnel Rats, those American soldiers, armed with nothing but a pistol and a flashlight, responsible for disarming underground booby-traps, and the Wild Weasels, an outrageous cowboy corps of pilots, initially with a 100% casualty rate, whose job was to invite enemy fire. With over six hours of personal and poignant recollection by Allied troops ranging from the horrifyingly overwhelmed combat medic, to the protagonists of the Bat 21 Rescue, the In Their Own Words: Vietnam collection is an audio treasury which brings to life a time of unprecedented valor.
EMAIL TO Audio Director Kipp Kilpatrick
---
---
---
---
---
Into the Elephant Grass: A Viet-Nam Fable
by Tim Brannan

Into the Elephant Grass is set in 1968 and reflects the time period in humor, tone, places, people and attitudes. Sergeant Shepherd Mallory - a recent college graduate drafted into the Army - travels from Travis Air Base in California to Viet-Nam. In that one plane ride, Mallory embarks upon a surrealistic quest into the Elephant Grass of the Vietnam war as well as of his soul.
Into the Elephant Grass breaks the mold for war novels. Because that war was so focused on "winning the hearts and minds of the people," it seems somehow appropriate that the story focuses on a Psychological Operations unit rather than on the more standard combat or medical unit.
It is a small book, only 108 pages, but don't let the size of the book fool you. It was written in an experimental, minimalist style dense with literary and cultural allusions and references. A mixture of prose and poetry paints a picture of the smells, tastes, colors, textures, and actions of the country of Viet-Nam, the Vietnamese people, and the war that ravaged both. He faces the booby traps and trip wires of friendship, betrayal, heartache, love, and death in his search for unity as a human being. "
The book, along with biographical information, is available at: www.authorsexpress.com .
ISBN 1-932203-64-8
Or you may prefer to purchase directly from Tim Brannan:
Please send payment of $11.95 + $2.50 postage & handling
and a note whether you want the copy or copies autographed and to whom.
Email ahead and a book can be autographed and saved for you.
Tim Brannan
2800 N. Atlantic Avenue #812
Daytona Beach, FL 32118

Email Tim
He would very much appreciate your order and your comments about the book.
---
---
---
---
---
It's Not About the War
By Richard Ingelido

This memoir is a journey finding happiness among the hardships and amusement amid the danger. This vivid account takes you through an unpredictable odyssey. The author came from a very poor family background, with an abusing father and parents in constant conflict with one another. As a young adult, he was on a 'dead end street' as an ironworker, but misfortune turned to fortune when a tragic industrial accident, leaving him debilitated for almost two years, presented an opportunity to further his education with complements of a Pennsylvania Rehabilitation Program. Richard Ignelido graduated from Pittsburgh Institute of Aeronautics as an Airframe and Engine Engineer.
At 28 years old, he was issued a Special Contract to assist the 1st Marine Air Wing in the adverse operation of the OV-10 aircraft. He became a civilian advisor in the Vietnam War in 1968-69. As young civilian engineer, family man and patriot you will follow his movements through a war torn land while striving to secure his family's future and seek a more meaningful purpose to his own life.
Unlike military personal, Ingelido was unrestricted in his movements; entering Off Limit areas and observing the war from a different perspective, seeing the ways and means of how local civilians were forced to survive in wartime conditions. He returned home a changed man, only to confront a whole new set of challenges in a country searching for its own identity.
---
---
---
---
---

JACKSON STREET AND OTHER SOLDIER STORIES
By John A. Miller
WINNER, 1996 California Book Award, First Fiction.
---
John A. Miller served with the 82d Airborne Division at Ft. Bragg and in Vietnam.
---
"You can add JACKSON STREET to the list of clear-eyed portrayals of the Vietnam War. Although none of Miller's stories chronicle actual combat, the Vietnam War lingers like the worst kind of presence - unseen, cryptically referred to, a place fresh soldiers must experience and battle-scarred ones can't shake." --THE SUN NEWS "IMPRESSIVE . . . Miller's bleak landscapes and haunted characters make memorable reading . . . OUTSTANDINGLY GOOD." --PUBLISHERS WEEKLY "Miller writes with astonishing skill." --BOOKPAGE "Highly recommended." --RICHMOND TIMES-DISPATCH "To chance upon this brilliant collection and begin reading Miller's lyrical parade of magical sentences is like walking out to get the morning paper and finding the Hope diamond." --THE BEAUFORT GAZETTE "Miller writes eloquently of people who have little to say themselves." --DANVILLE REGISTER & BEE "Near flawless . . . not a sentence out of place." --SAN FRANCISCO CHRONICLE "Fine stuff indeed." --THE SEATTLE TIMES
Price:
$20.95 Total per book
($18.95 plus 2.00 S&H--hardcover)
Checks payable to:
Orloff Press
P.O. Box 80774
Athens, GA 30608
For additional information, please contact John Spencer at Orloff Press:
1 (800) 724-8078 or--
Voice + fax (706) 548-0701 or--
(Orloff Press, ISBN 0-9642949-3-1)
---
---
---
---
---
Jason's Demons
By John Paul Rossie
This 63,000-word novel tells a fictional story of a Vietnam Veteran's struggle with PTSD and the VA. It is available for FREE by downloading directly from the Vietnam Veteran's Home Page.
---
---
---
---
---
Jimmy's Girl
By Stephanie Gertler

A novel for anyone who ever left love behind in the wake of the Vietnam War and dared to wonder "what if?" The debut of a writer of extraordinary talent, Jimmy's Girl is a story of first love lost and of the price to be paid for finding it again.
Published by Dutton
February 2001
$22.95US/$33.99CAN
ISBN: 0-525-94565-2
Also available in paperback February 2002
$6.99US
ISBN: 0-451-20516-2