Blood Songs: Lyrics of a Police Action
by Dennis P. Knick

In a battle, seconds seem like hours. Actions and reactions occur a thousand times a minute. Every move a soldier makes may be his last, if he isn't thinking. Every time he aims his weapon at the enemy, he may be violating an entire value system established in his personality very early in life. Every time a soldier kills, his moral fiber is changed. The quote "It was either him or you," is constantly thrown at the soldier as some sort of consolation or rationalization for the taking of another human being's life.
The poems offered in this book don't try to find answers, nor do they ask any of those questions we, as a society, are never able to answer. The poems in this book are offered as one person's observation/opinion of a war, expressed in song form.
# ISBN: 0595284337
---
---
---
---
---
Born in the '40s, Raised in the '50s, Died in the '60s
By George Brondsema

This book presents deep and honest feelings about a time in our nation's history that still holds conflict for those that lived through them. Broadsema shares with us the innocence of growing up in the fifties and the shattering of the innocence in Vietnam and after, when he returned home. He describes clearly the damage done to returning veterans by cultural rejection which deepened his and other veterans' feelings of alienation. He offers a rare degree of insight into the experience of a combat veteran both in the war zone and in the ensuing lifetime of reliving those events and feelings.
This is a riveting story that provides a good look into the soul of a PTSD Vietnam veteran. You can feel the emotional pain as he re-lives the events that brought about his spiritual and physical wounds. You will find some very raw honesty and emotional pain near the end of the book where he inserts his poetry. He gives a voice to his pain and spiritual wounds.
During Brondsema's second tour as a Marine grunt near Khe Sanh, his unit was hit hard. Most all of the men were wounded or killed. That event in 1968 has stayed with George all these years and today he is still trying to deal with those issues. What happened and how he handled all the terror and reality of war is what makes this book a good and insightful read. Other veterans may be able to identify with the author and perhaps, be able to recognize their own behaviors - so they can begin their own healing process.
ISBN: 1424102146
---
---
---
---
---
Brave Men, Gentle Heroes
By Michael Takiff

Brave Men, Gentle Heroes is the first book of its kind: oral histories of World War II veterans and their sons who are Vietnam veterans. These men served in the Army, Navy, Air Force, and Marine Corps. Officers and enlisted men, career servicemen and citizen soldiers. Men of European, African, Asian, Latino, and Native American ancestry. Men who speak in the authentic voices of an Indiana farmer, a Brooklyn bus driver, a Louisiana small businessman, a Seattle machinist.
The contrasts between World War II and Vietnam are well known to Americans, and they are everywhere in these compelling accounts. But the stories in Brave Men, Gentle Heroes are also rich with elements intrinsic to all wars and all soldiers: courage, honor, service, duty, youth, adventure, fear, idealism, love of country and of family, exasperation with military bureaucracy.
The men whose eloquent voices appear in Brave Men, Gentle Heroes offer remarkable insights into the way men live through war. But Brave Men, Gentle Heroes is also about how men live with war - how they remember war, and carry it with them, in the years and decades that follow.
ISBN: 006621081X
EMAIL the Author
---
---
---
---
---
Bringing The War Home!
By Barry Willdorf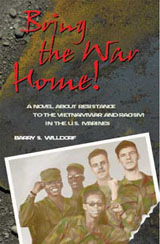 BRINGING THE WAR HOME! is the story of a student activist couple testing their relationship and their beliefs as they attempt to organize antiwar Marines in Southern California during the Vietnam War.
Set at Camp Pendleton in Southern California and the Columbia University campus in New York, the couple struggles poignantly, often comically, through a maelstrom of the gender, racial, drug, and political debates of the era. A fictional insight into the turbulent times of the late 60s and early 70s, the novel is a precursor of the interpersonal and group conflicts of today.
ISBN: 097130260X
Email the Publishers at Gauche Press
---
---
---
---
---
BrownWater
By Samuel C. Crawford

Two teenage boys are heading to Vietnam in this sometimes-humorous account of their ordeal traveling throughout South Vietnam in their challenge to locate their unit. Charles, fresh out of boot camp and having no idea what to do or how to get around, teamed up with Petty Officer Dan who was returning for his third tour and having all the right answers and shortcuts required to survive in 1969 Vietnam.
For Vietnam veterans, this story will bring back precious memories that will make them say, "Yeah, I remember doing stuff like that. That part of the war was fun." And those who never served in the military will find this an enjoyable eye-opener to military life from the eyes of an 18-year-old city boy from Baltimore.
ISBN: 1401054633
---
---
---
---
---
BrownWater II
By Samuel C. Crawford

This comical adventure begins for Charles Edwards after reporting to Vietnam as a member of the Brown Water Navy stationed in the Mekong Delta assigned to the Mobile Riverine Task Force 117. With a little help from his friend, Petty Officer Dan, Charles quickly matures from his humble beginnings as an 18-year-old city boy from Baltimore.
For Vietnam veterans, this story will bring back precious memories that will make them say, "Yeah, I remember doing stuff like that. That part of the war was fun." For those who never served in the military will find this an enjoyable eye-opener to military life.
ISBN: 1401063586
---
---
---
---
---
Bugs in Armor
By Robert Bwire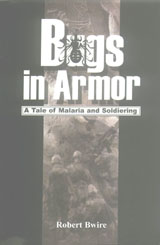 From military expeditions in antiquity to peacekeeping missions in the twentieth century, malaria has been the single most important medical problem confronting non-immune troops in malaria ridden regions. Its devastating effects were clearly visible during both world wars. During the Macedonian campaign in World War I, an exasperated French general could not counterattack as he desperately reported, "Regret that my army is in hospital with malaria." Malaria also popped up in Korea, Vietnam and during Operation Restore Hope in Somalia. Often malaria causes more casualties than enemy action. A 1772 Dutch force sent to quell rioting slaves in Surinam lost three-quarters of its troops to malaria, and only a handful to the rebels.
Bugs in Armor takes the reader on a historical journey of military expeditions and their encounters with a relentless bug-the malaria parasite. It is also a story of how this confrontation fuelled research that gave the world a better understanding of the nature of malaria, its treatment and prevention.
About the Author:
Robert Bwire was born in Uganda where he trained as a physician. He worked for the Infectious Diseases Control Unit of the Royal Netherlands Army and still does some consultation work for the unit. At present, Dr. Bwire is an epidemiologist with the Royal Netherlands Tuberculosis Association. He is also the author of numerous scientific articles.
ISBN 1-58348-754-9
Price: $14.95
Email contact for Robert Bwire
---
---
---
---
---
Bury Me With Soldiers
By C.W. Standiford

One Grunt's Honest Story about Vietnam
The late 60's in America was tumulus and uncertain. A young Oregon ranch kid must decide whether to flee or fight. The young man understands he will not flee.
During the fifty days of living like a wild dog in a dirt den the young Marine witnesses the decimation of his grunt company. From his first patrol where his new found fellow Oregonian dies in front of him, to the wayward 500- pound bomb that kills and maims several of his company, the young marine sees that the death around him is like a slow flesh-eating virus.
Ignoring the old military axiom never volunteer the marine volunteers for a new recon company being formed. He and the other volunteers play cat and mouse in the dark and unholy jungles of Vietnam. The casualties still mount, but for the first time the enemy is now seen by the transformed warrior and he is able to fight back.
Unlike PLATOON this account shows the honor, the devotion to duty and even a few laughs. These are not Americans who fought one another, but Americans who fought for America and men this Marine would like to be buried with.
I have fought in only one war. In it, I witnessed the bravery of young soldiers, their unwavering stamina, their will to live, and their willingness to die. I lived with these men in conditions worse than anything I could ever have imagined in a protracted war that saw our country flounder pitifully and ultimately fail.
With that failure, we, along with our nation, changed forever. Innocent, teenage soldiers-rock'n'rollers, rednecks, reluctant recruits-we went to fight an honorable fight to stem the tide of communism. But as the war dragged on, our music died, and the honor of this nation suffered a near fatal blow. Gone forever was our youth and innocence. For those of us who went and survived, the Vietnam War will go with us to our graves. And it will go as a task not completed.
ISBN: 1403395241
Available in paperback, hardback, electronic and audio formats.
Orders also taken at 1-888-280-7715
EMAIL the Author
---
---
---
---
---
The Cat From Hue
By John Laurence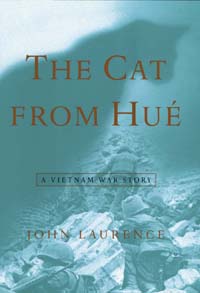 John Laurence, covered the Vietnam War for CBS News from 1965 to 1970, and helped to create the award-winning documentary The World of Charlie Company, was judged by his colleagues to be the best television reporter of the war. Despite the professional acclaim, the traumatic stories Laurence covered became a personal burden that he brought home and carried long after the war was over. He struggled with memories of what he had witnessed: the illegal bombings, the torture and murder; the corruption within the ranks; the desperation. Above all, his conscience haunted him about a close encounter with a North Vietnamese soldier in which he had to make a decision of life and death.
The result is THE CAT FROM HUE: A Vietnam War Story, a passionately felt, vividly described memoir, laced with humor, anger, love, and the unforgettable story of a very idiosyncratic feline named Meo who was determined to play his part in the Vietnam revolution. In reconstructing his experiences, Laurence relied not only on his notes and memory and formidable literary skill, but also on hundreds of hours of film footage shot at the time giving the book an uncanny vividness, power, and fidelity to facts.
ISBN 1891620312
Published in January of 2002 by PublicAffairs
Page count: 864
Retail price: $30.00.
---
---
---
---
---
A Certain Brotherhood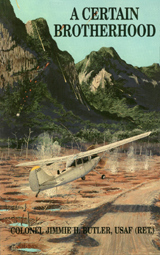 ---
Jimmie H. Butler, Colonel, USAF, Retired, flew 240 missions as a Nail FAC in O-1s and O-2s in the Vietnam War. His combat decorations include the Silver Star, the Distinguished Flying Cross, and the Air Medal with sixteen, oak-leaf clusters.
Since retiring from active duty, he has published two highly successful technothrillers. His first novel, "The Iskra Incident," earned the 1991 "Award of Excellence for Aviation Fiction" from the Aviation/Space Writers Association. "Red Lightning-Black Thunder," a thriller involving space warfare, was crafted from his experience as Chief of Staff of the U.S. Air Force Space Division and as a pilot on worldwide missions in C-141 jet transports.
While at the Air War College, he wrote a book-length report, "Crickets on a Steel Tiger: The Interdiction of the Ho Chi Minh Trail, 1966-1968." It earned the Air Force Historical Foundation's 1980 Award for the best aerospace report of major historical interest.
A graduate of the United States Air Force Academy Class of 1963, he resides in Colorado Springs where he established the Pikes Peak Writers Conference in 1993.
---
Ordering Information:
Autographed copies of "A Certain Brotherhood" (ISBN 0-9655396-0-1) are available from Cricket Press in trade paperback (approximately 350 pages/illustrated) for $12.99 ($9.99, plus $3.00 for postage/handling).
Colorado residents: please add sales tax.
Please make check/money order payable to: Cricket Press.
And mail to:
6660 Delmonico Drive, D-215
Colorado Springs, CO 80919
---
Also see this web site for additional information.
---
---
---
---
---
---
Chapter One: The Story of Vic Charles
By Bob Staranowicz

Vic Charles has returned from his tour but his sub-conscious has been left behind in Vietnam. He is a successful writer and is prepared to begin his second work. For reasons unbeknownst to him, he is stuck in "Chapter One" The flashbacks, the twitching and nightly sweats have once again reared their ugly head.
Vic tries not to let these re-occurrences bother him but they take their toll on what could be a very successful writing career. He does his best to keep the latest "terrors" from his wife, Molly and his two sons, Spence and Mark. All is well until he feels the need to travel to the "Wall", This could well be his last trip anywhere as he discovers that he has brought something back from the war with him which has been inside of him for more than 20 years. As his life may be slowly slipping away, he discovers the foreign substance that he has been harboring for these many years. As Vic lay in his hospital bed, only he knows whether he will survive or not...... Author Bob Staranowicz, born in Philadelphia, served with the 101st Airborne in Vietnam.
ISBN: 1594531501 Web Site
---
---
---
---
---
Chickenhawk
By Robert Mason

Chickenhawk became a New York Times best-seller in 1984, and remained on the list for 17 weeks. It is currently in its 23rd printing.
Chickenhawk recounts the Vietnam War from the perspective of a helicopter pilot who experienced many combat missions.
A recent edition includes illustrations and the real names of individuals and units.
Visit Robert Mason's web site for additional information
---
---
---
---
---
CMAC: A Vietnam Era Trilogy
By James Finnegan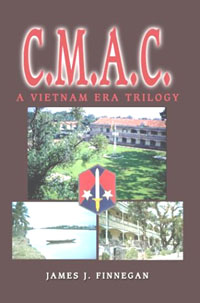 C.M.A.C., A Vietnam Era Trilogy, contains three sagas that describe the late 1960s, Vietnam era, U.S. Army life of James A. Callaghan.
Saga of a Student Warrior--The first story follows the military training of Callaghan who, during his draft induction, was christened "Hallaghan" due to a bureaucratic error. It describes how he dealt with his new and strange environment, and his first assignment as a post radio officer.
Saga of a Saigon Warrior--The Capital Military Assistance Command (C.M.A.C.), Saigon, and the surrounding districts were Callaghan's home in Vietnam during 1969. He met his match when he tangled with General Gottard, the personification of the cartoon character 'Yosemite Sam,' until a year later when Callaghan suffered an untimely accident while clearing post.
Saga of a Garrison Warrior--Returned from near death by a C.M.A.C. medic, Callaghan was quickly moved to Third Field Force hospital near Tan Son Nhut air base, where, after a lengthy operation, he was transferred to Guam to convalesce and regain his real name. Healed, the recently promoted Captain Callaghan then commanded a signal company, where the trials and tribulations of a garrison environment tested his perseverance.
ISBN: 059528129X
EMAIL the Author
---
---
---
---
---
Con Thien: The Hill of Angels
By James P. Coan

Throughout much of 1967, a remote United States Marine firebase only two miles from the demilitarized zone captured the attention of the world's media. That artillery-scarred outpost was the linchpin of the so-called McNamara Line, intended to deter incursions into South Vietnam by the North Vietnamese Army. As such, the fighting along this territory was particularly intense and bloody, and the body count rose daily.
In Con Thien, James P. Coan combines his personal experiences with information taken from archives, interviews with battle participants, and official documents to construct a powerful story of the daily life and combat on the red clay bull's-eye known as "The Hill of Angels."As a tank platoon leader in Alpha Company, 3d Tank Battalion, 3d marine Division, Coan was stationed at Con Thien for eight months during his 1967-68 service in Vietnam and witnessed much of the region's notorious carnage.
Con Thien was heavily bombarded with impunity by enemy artillery because it was located in politically sensitive territory and the U.S. government would not permit direct armed response from Marine tanks. Coan, like many other soldiers, began to feel as though the government was as much the enemy as the NVA, yet he continued to fight for his country with all that he had. In his riveting memoir, Coan depicts the hardships of life in the DMZ and the ineffectiveness of much of the U.S. military effort in Vietnam.
ISBN: 0817314148
---
---
---
---
---
Conduct to the Prejudice of Good Order
By Dan Dane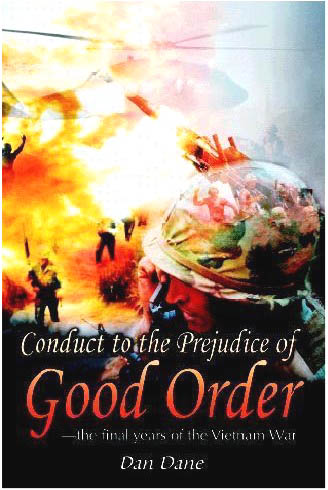 The story of a drafted, civilian attorney serving as an Army lawyer in Vietnam gives this book a unique perspective. Captain Blake's experiences accentuate many of the troublesome aspects of the war, including the draft, authority of commanding Generals, domestic demand for troop withdrawal, and in the end, the manufacture and delivery of heroin to the American troops.
Conduct to the Prejudice of Good Order offers a glimpse of conditions in the First Cavalry Division around Bien Hoa during the last years of the Vietnam war. In 1971, Bill Blake encounters fragging, racism, and heroin addiction while defending soldiers in court-martial trials as a young Army JAG lawyer. Much like the soldiers he defends, Blake finds himself in conflict with his superior officers.
Additional information is available at Dan Dane's Web Site
---
---
---
---
---
Confession to a Deaf God
Memoir of a Mekong River Rat
By Gary R. Blinn

War is a religious experience. Mystic. Demonically insane. It pushes humans to the ragged edge of self-knowledge. Mixing philosophy, literature, psychology, and memoir, this book carries us on an odyssey – an odyssey that explores why young men volunteer for combat, how they live, and how they survive. It is raw in its portrayal of cowardice, of bravery, of haunting irreversible mistakes, of guilt, and of love. Confession to a Deaf God is a thought-provoking exploration of the incomprehensible cosmic game of Mars, ancient god of war.
ISBN: 1-4010-7463-4
Also available as an e-book
---
---
---
---
---
A Corpsman's Legacy:
How He Continues To Heal Others Through The Daughter He Never Knew
By Stephanie Hanson

Adopted at birth, Stephanie Hanson begins a search for her biological parents and learns her father, Gary Norman Young, was killed in the Vietnam War before she was born. To unravel the mystery of his death, she hears first-hand from other veterans of her father's world of courage and bravery as a helicopter crewmember in 1969. She learns of the remarkable relationship that exists between Marines and their Navy Corpsmen, and realizes she has now inherited the honor and respect given to her father. After years of perseverance, Stephanie finally obtains the medals and honors her father earned for his sacrifice and service, through the help of veterans, the Marine Corps Commandant and a United States Senator. During her journey, she locates the family members of the men who died with her father and helps other veterans and children connect with each other. Embraced by thousands of veterans, she discovers the greatest gift her father left her is the legacy of healing.
ISBN: 0977143139
---
---
---
---
---
Corpsman Up
By Paul M. Baviello
"It's not just my book...it belongs to everyone who was there."

--Paul "Buzz" Baviello
---
Paul proudly served in Nam as a "squid" (his word) with a Marine unit...Delta Co, 1st Bn, 5th Marines, 1969-70. Paul had to rise when others hit the deck and the yell, "Corpsman up," was heard above the roar of combat. He carried a Unit 1 corpsman's bag and an M16. He knew how to use both.

Paul can be reached at: FMFCorpsmn@aol.com
---
---
---
---
---
CRY IN THE WILDERNESS:
Guinea Pigs of Vietnam
By Jean Williams
The facts and the documentation of untruths, disinformation, and the lingering results, written by the mother of a Vietnam Veteran and vociferous peace activist.
ISBN: 0 949525 24 3
Known Retail Price:
Post & packaging in Australia - AU $25.00
Post & packaging to New Zealand - AU $6.00
Post & packaging everywhere else - AU $10.00
All sent via air mail.
Available from: Jean Williams
Homecoming Publications
186 Coes Creek Road
Nambour
Queensland
Australia
International Telephone: +61 7-441-1753
In Australia: 07 441-1753-20
---
---
---
---
---

An outstanding collection of books by Vietnam Veterans and Vietnamese authors.
---
---
---
---
---