David E. Underhill
---
I was born on July 22, 1948, in Leitchfield, Kentucky. My parents were Lloyd E. & Nova Tilford Underhill. I grew up on a small farm, attented a one-room country school, and graduated from Clarkson, Kentucky, High School in 1966. I walked one mile each way to and from school, packed firewood, milked cows by hand, and other general farm work. I enjoyed hunting, fishing, and attending a small, one-room country church.
I worked as shipping clerk in a small-town sewing factory, saw mill, and a G.M.C.-Buick dearlership as wash boy (for lack of finding a better job due to 1A-draft status) until drafted on 4-18-68.
I was inducted into the Army at Louisville, Kentucky; took basic training at Ft. Campbell, Kentucky; and advanced training as Ammo. Records Spec. at Redstone Arsenal, Alabama. On completion of records school, I went to Vietnam and was assigned to 184th org. bn., 820th org. co. Qui Nhon.
I completed my tour of duty at Ft. Knox, Kentucky, e.t.s. date 4-17-70. After my discharge, I returned to work at the Buick dearlership in Leitchfield, Kentucky (as unemployment was high and no one wanted to hire a Vietnam Vet).
I married Lucille Grant in 1970 and divorced in 1978, no children. I married Carolyn Jones in 1979. Later in 1979, I opened, owned, and managed Northside Autobody Shop. I sold this business in 1985 and opened Discount Auto body. I later closed this business.
I am now divorced, no kids, and employed at a U.S. Post Office as window clerk. I served one term on the board of directors for the American Legion. I am now on my 3rd term as commander of a VFW post. One of our accomplishments has been a Vietnam Memorial Quilt -- poems in each top corner, U.S. Flag top center, pictures of the 11 Grayson County men killed in Vietnam in the center. Under these are the 213 names of other Grayson County men that served in Vietnam.
I took my first trip to The Wall in 1985, after which I wrote the poem "The Vietnam Wall." I went back to The Wall in 1995 and wrote the poem "I Came To The Vietnam Wall."
Both poems can be purchased on 11x14, print-quality paper suitable for framing. They look particulary good hanging beside the print "Reflections." All profits go to help needy Vietnam Vets and their families.
I can be contacted by E-mail at: davide2@kih.net
Thank you,
David E. Underhill
---
---
I Came To The Vietnam Wall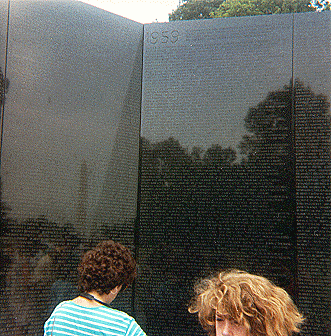 Hello Wall, I've come to visit.
I traveled hundreds of miles
To see how I would feel inside.
I come cold, hard, and unfeeling
Just as war made me.
I come to look upon your cold,
Black face.
To see the names of 58,000
Young men,
All comrades of mine.
I see the rice paddies and the jungles.
I remember the battles of Khe Sanh
And Hamburger Hill.
I hear the screams of Pain & Agony
As a comrade falls,
His legs torn off by a shell.

I hear the whirl of a helicopter,
The screams for Medic over here.
I smell the stench of death
And destruction,
As though I were there again.
Not to mention the look
On a young Vietnamese Child
As its family is blown to Hell.
Will your thirst never be quenched?
If so, then why? Lebanon, El Salvador,
Desert Storm, and all the others.
And even as I stand here
(My image reflecting in your face),
You tear my heart and soul from me.
Copyright&copy TXV680503 3-6-95 By David E. Underhill, All Rights Reserved
---
---
The Vietnam Wall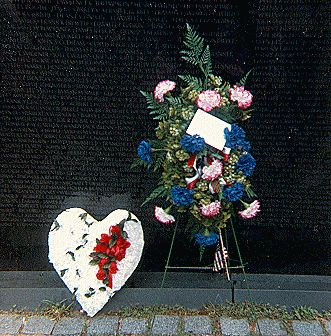 Hello! Yes, I am The Wall. You have heard of me I am sure,
You may have even contributed to my being.
I was built through contributions from our veterans,
From all across The Great United States,
To honor those who served and died in Vietnam.
Did you know I am 500 feet long,
Reflecting the longest war in our nation's history?
I have 140 separate panels, each for a particular time
In the history of that tragic war.
I am 10 feet tall at my tallest point,
Just as our fine young men felt tall as they answered
Our nation's call.
Less than a foot at my lowest,
Reflecting the feeling of our nation
For sending them.
I am made of Black Granite,
Black for the dark pages of history I reveal.
Granite for the strength and courage of 3,300,000 servicemen
Who answered their country's call.
And yes, part of me is buried
Just as over 58,000
Young men are whose names appear on my face.
Yes, I stand here Tall, Dark, and Majestic. But I stand not alone.
I am visited each day by tens, hundreds, yes, even thousands,
Who in some way are touched by my cause.
Families stand before me, with thoughts of that special one they loved.
Some bring tokens of rememberance, others flowers and letters,
While still others bow their heads in prayer.
But whatever their reaction, they all seem to have one thing in common.
They ask, "Why, Wall?"
I try to assure them, that perhaps it was not in vain.
That perhaps there was a reason, not yet revealed.
But that if for no other, then I am here
As a reminder, Not to let it happen again.
Copyright&copy TX3270302 3-9-92 By David E. Underhill, All Rights Reserved
---
---
---