Angel Fire Memorial Soil Exchange with Vietnam
---
Founder and Director of the Angel Fire Memorial for Vietnam Veteran's, Dr. Victor Westphall, traveled to Vietnam in late April/early May, 1994, and carried with him a container of soil from the Angel Fire Memorial grounds.
At the site where his son David Westphall and his Platoon were ambushed and killed, near Con Thien in 1968, Dr. Westphall emptied his container of New Mexican soil and filled it with Vietnamese soil. This he carried back home and put on the Memorial grounds near the Chapel.
This map shows the general area northwest of Dong Ha, almost directly north of Cam Lo, where the ambush, and later the soil exchange, probably took place.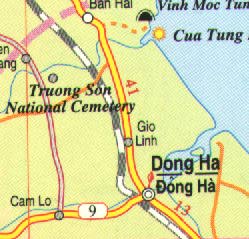 A larger image (longer download time) is also available here.
A detailed map pinpointing Con Thien is avaliable here. (Download time for this image is approximately twice as long as "large image" selection directly above.)
Use this link to visit the Web Site of the Angel Fire Vietnam Veteran's Memorial located at Angel Fire, New Mexico (northeast of Taos, NM). It's a very special place if you ever get a chance to visit.
---