Vietnam Veterans of Central Florida, Inc. (VVCF)
and
Vietnam War Museum

---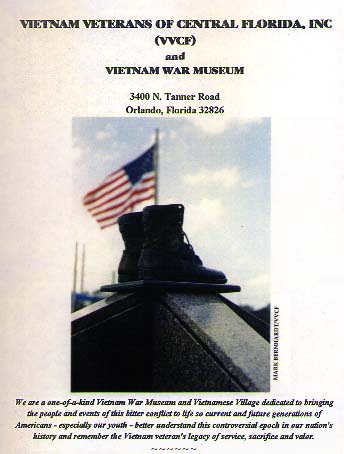 The "BUNKER"
The VVCF Headquarters
3400 North Tanner Road
Orlando, Florida 32826
Ron Larrivee, President
Located off State Road 50 in Union Park
Phone: (407) 273-0201
FAX: (407) 273-6794
---
Creed
---
Support and Assist Vietnam Era Veterans and Their Families.
---
Purpose
---
Improve the Social, Economic, Eduational, and Physical Welfare of the Vietnam Era Veteran.

Increase Public Awareness of the Vietnam Veterans' Legacy of Service to Country -- Then and Now.

Conduct Educational Activities Pertaining to the Vietnam War Experience.
---
The Vietnam Veterans of Central Florida, Inc., (VVCF) and Vietnam War Museum is a Central Florida nonprofit organization founded in 1982 and dedicated to assisting the servicemen and women of all wars and branches of service. While mainly an organization of Vietnam War and Vietnam Era Members, the VVCF welcomes all who served with the armed forces of the United States. The VVCF is not affiliated with nor a subsidiary of any state or national organization.
The VVCF has embarked on a very ambitious undertaking: building a war museum and Vietnam village that will bring the people and events of this War to life so that current and future generations will remember the Vietnam Veterans' legacy of service, sacrifice, and valor "rendered in good faith and for good purpose." The museum is dedicated to future Americans in the hope that they will understand the Vietnam experience and its lasting legacy.
The museum will open to the public on a limited basis by December 1998 with educational tours and historical educational programs available. These programs will be specifically tailored to the needs of grade 9-12 secondary students at local, state, and national levels. The museum will be fully operational by December 2000.
---
TOGETHER THEN - TOGETHER AGAIN