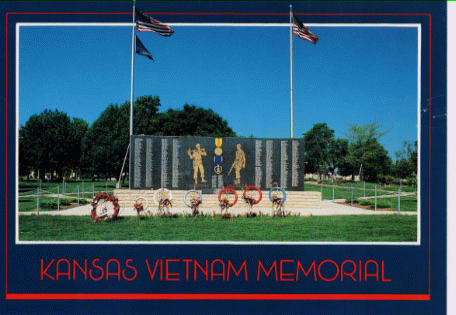 Kansas Vietnam Veterans Memorial
---
The Kansas Vietnam Veterans Memorial is located in Junction City, KS. Junction City is located on I-70 in the eastern part of Kansas. The memorial was dedicated July 4, 1987. It is constructed of 7 black granite panels and stands 13 feet tall and 46 feet long. Four of the panels bear the names of 753 Kansans killed in action in Vietnam. Another panel displays the names of 38 Kansans who were still missing in action in 1987 from the southeast Asian war. Two military decorations, the Purple Heart and the Vietnam Campaign ribbon are also engraved on the panel with the MIAs. The remaining two panels depict two soldiers in larger-than-life size.

The memorial is located on the east side of Heritage Park, 6th and Washington. Further information may be obtained by contacting the Vietnam Veterans of America, North Central Kansas Chapter #344, P O Box 1492, Junction City, KS 66441.
---
The following information was provided by Don Melella, Secretary of VVA Chapter 344

The Memorial was created entirely by private contributions, and the hard work and dedication of the Vietnam Veterans of America, North Central Kansas Chapter #344.

Heritage Park contains memorials to Kansas Civil War, World War Two, Vietnam and Desert Storm Veterans.

The Kansas Vietnam Memorial consists of seven black granite panels. The two end panels contain the names of all Kansas Veterans that were killed or are MIA from the Vietnam War. The center panel is two soldiers flanking a Vietnam Campaign Medal and a Purple Heart Medal. At the base of the center panel is a poem written by Michael OĈDonnell.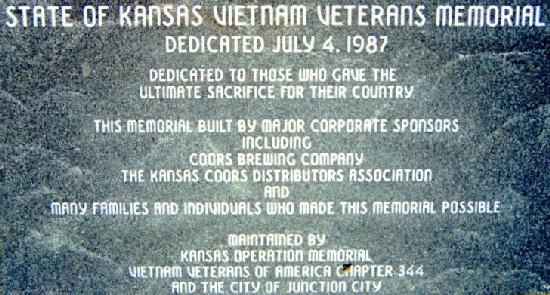 If you are able,
Save for them a place Inside of you,
And save one backward glance When you are leaving,
For the places they can no longer go,
Be not ashamed to say
You loved them,
Though you may or
May not always have,
Take what they have left
And what they have taught you
With their dying
And keep it with your own,
And in that time
When men decide, and feel safe,
To call the war insane,
Take one moment to embrace
Those gentle heroes
You left behind.


By Michael O ' Donnell Killed in Action 24 March 1970, Republic of Vietnam.

Under the feet of the two soldiers are the following inscriptions. "To these men, and all men who died in other wars, this is their tribute." "History will remember the war. Will America remember her men?"

At the entryway to the Memorial is a dedication plaque that reads:

STATE OF KANSAS VIETNAM VETERANS MEMORIAL DEDICATION JULY 4, 1987

This memorial built by major corporate sponsors including:

Coors Brewing Company
The Kansas Coors distributors Association
and
Many families and individuals who made this memorial possible

Maintained by the
Kansas Operation Memorial
Vietnam of America Chapter 344
and the City of Junction City

---
Photos and information provided by Jo Ann Wahrman and Don Melella
---