East Meets West Foundation (EMWF)
---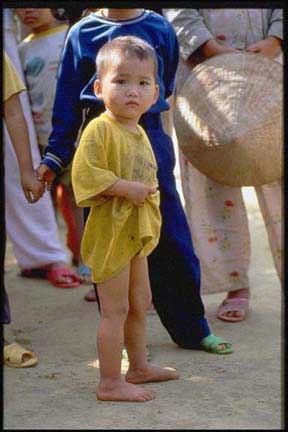 ---
My name is Sandra Ann Harris, Development Director for the East Meets West Foundation (EMWF). The East Meets West Foundation is a non-profit, humanitarian organization that partners with the people of Vietnam to improve their health, education, and economic conditions in an effort to ease poverty and encourage self-sufficiency. We are not political or religious.
We believe the local people are the experts, and they know what is best for their communities. At East Meets West, we work hand in hand with the Vietnamese people to identify their needs and develop innovative and sustainable solutions that create doors of opportunity for underserved and impoverished people.
To maximize the amount of humanitarian works we can carry out, East Meets West runs a very tight ship with less than 15 percent of our budget earmarked for general administration. We are actively fund raising to expand our programs in 2000. East Meets West is wholly supported by private grants and donations. Our humanitarian work depends on the support of people like you.
East Meets West Foundation was born of one woman's dream to heal the wounds of war between Vietnam and the United States. She wanted the former enemies to lay down their weapons and work together to improve health care, education, and other services for poor and disabled people in Vietnam.
So, in 1988, Le Ly Hayslip, whose life story was chronicled in two books she wrote and in Oliver Stone's movie, "Heaven and Earth," went back to her village of Ky La in Central Vietnam to plant the seeds of peace and start the process of healing.
Over the last 10 years, with the help of hundreds of volunteers and many, many private donations, as well as a grant from the U.S. government's Aid for International Development agency, the nonsectarian foundation has completed hundreds of projects; and, in the process, Hayslip's dream has come true.
East Meets West Foundation

1440 Broadway, Ste. 609

P.O. Box 29292

Oakland, CA 94694

Tel: (510) 763-7045

Fax: (510) 763-6545

Web Site: http://www.eastmeetswest.org/

E-mail: info@eastmeetswest.org

Sandra Ann Harris
Development Director for EMWF